Paintbrush
September 3, 2016
Before you came, I couldn't sleep. I was awake all night, my mind blank, my ears filled with soft music. Every morning, I woke up, and everything around me was black and white and gray - dull, monotonus. I didn't get excited...I didn't show any emotion really. I gave up on school, yet nobody noticed. I wasn't really falling apart, I was just losing my color. Life had become boring.
Then you appeared out of nowhere, my paintbrush. You assured me everything was going to be okay, and you introduced me to someone whom I would fall in love with so deeply that my color would return brighter than it ever had been before. You stayed with me for one summer, and kept me awake yet rested, vivid and beautiful and valued. I was doing so well, wasn't I?
But when school started again you said good-bye, leaving me with a gallon of paint and a weary smile. It had been a rough summer, you said, and you had to go home now, but you'd left this paint for me so that I could keep myself going. I grew angry with you, angry that you had deserted me so suddenly, but on the inside I was scared- scared that I was going to lose everything I had gained. The paint that you gave me turned gray, yet I continued to use it over and over again until I was drowning in it.
I can't sleep now. My mind is hollow, and soft music fills my ears once again. I need you back, one who perches on the moon and watches over me. Just for one more summer.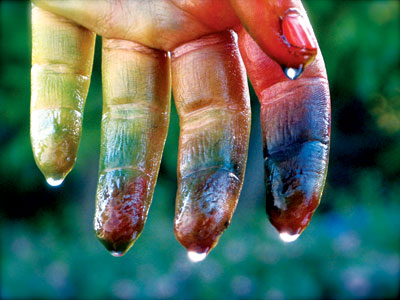 © Allison F., Menlo Park, CA