Tumlbe
July 26, 2016
 As anyone with an interest in extreme sports would know, an injury is bound to happen at some point. However, when it does, we are not usually expecting it. Tony Baker was definitely not expecting it. He is the lead guitarist of a pop-punk outfit from Denver, Colorado. His band is called Pocket Change. If you follow him on Instagram, whether you are a loving fan, or just a hater, you will see that he loves mountain biking. He is constantly posting pictures of him and his pals on their bikes as they conquer the trails of Denver and its outskirts' scenic terrain.
Two weeks before Pocket Change was scheduled to headline Vans Warped Tour throughout the summer of 2015,  Baker set out to dominate the mountains of north-eastern Colorado, by bicycle, with buddy and band photographer Matt Lenno. The two young men climbed up the hills, beside the creeks, and through the trees on a warm Saturday afternoon. Mesmerized by his surroundings, Tony was not paying attention to his bike wheels. He soon snapped out of his trance when his bike tire hit a rock. At which point, he was catapulted into the air. Flying like a mad man with his limbs flailing, he watched his world spin in circles though his hazel eyes. When he hit the ground with monumental velocity, the wind was knocked out of him and he continued to roll across the gravel and dead leaves. Whilst finally slamming into the bottom of a tree, he heard a few cracks and lied flat on the ground covered in dirt and his own blood. His dark brown hair was stuck to his face, his black RayBan glasses were shattered and bent, and his dermal piercing was barely attached to his face. His vision was blurry and the hills that were once alive with beauty became indescribable blobs of watercolor – running like drunken pastels down a stairway. His eyes closed, as he lied paralyzed along the tree stump gasping for air. Every breath was a battle, and staying alive was a war.
"Tony!" Hey Tone! Wake up for me man." Matt Lenno begged and pleaded for his friend to come to.
He was unable to speak so while taking deep breaths, the injured Tony tried to nod. It was then that he was overcome with shooting pains down his owl-printed chest and across his Star Wars themed rib cage. The sound of spinning helicopter blades cascaded throughout the valley.
"It's here for you bud, you fell pretty hard. . . squeeze my hand" Lenno instructed reaching out towards his injured friend.
He felt the light touch of Tony's black and white fingers. The guitarist continued to stare at Matt. His looks of pain, suffering, and agony brought tears to friend's eyes. By the grace of god, the helicopter was able to land not too far from the dying young man whose tattoos were no longer visible though the blood and telluric substance that covered all six feet of his body. In the distance, he could hear Matt speaking with a paramedic:
"Yeah. . .flew. . .then he was on the ground"
"That's all I remember too" Tony thought to himself. He then returned his attention to the conversation. Lingo was giving the paramedic some of Tony's information.
"Yep, 29. . .February 25, 1986. . . uhh, about 180 I think"
The paramedic was writing for a little bit before he spoke again.
". . . Medical Center. Get off the freeway and take a right onto Big Bear. It'll be the first building on your left"
"Okay, thank you so much sir, I'll be there as soon as possible" Matt responded. "See you in a few Tone, I'm bringing Ashley. Just stay alive for me"
His injured friend managed to raise two fingers and awkwardly exhale in response to his comments as he was loaded into the helicopter. Matt then grabbed their bikes, trudged down the mountain, walked to the car and packed up to go get Tony's girlfriend Ashley.
It was only a twenty-five minute drive but for the two of them, it felt like two centuries. Eventually, they made it to the hospital where their loved one was staying. Upon arrival, they learned that Tony had suffered three broken ribs, a torn shoulder, a broken sternum, and a collapsed right lung. He would need immediate surgery to fix these, however he was expected to make a full recovery. Both of them stayed the night to keep him company. Bright and early the next morning, Ashley and Matt had left when Tony was put under anesthesia  while his mother drove to the hospital. Tony was wheeled in to the operating room as he began to slip in and out of consciousness. After nearly six hours of surgery, he woke up surrounded by flowers and little stuffed turtles.
"Hey Tone!"
"What's good brother?!"
"How's it goin turtle?!"
His band mates Bailey, Tyler, and Aaron had come to visit him.
"Hey guys! How are you?" he spoke softly and attempted to smile.
They laughed.
"We're good, but how are you doing?' Bailey replied on behalf of the group.
Tony took a deep breath before replying.
"As good as I can be I guess. I'm sorry I can't hit the road with you guys this summer."
The doctor said even though he will recover, and will undergo intensive physical therapy, he will not be able to tour with Pocket Change for the majority of the summer.
"Hey. It's all good"  Bailey said
"For real dude. You're alright that's all that matters" Tyler chimed in
Aaron nodded. Tony smiled and then asked who was going to fill in for him.
"Jesse Bastille" all three guys replied together.
"Oh. Okay!" Jesse was a good friend of all the guys and his band had toured with Pocket Change a few times, so Tony was happy to hear the news.
He was released from hospital about a week later and was sent to recover at home. Another week later, his band packed all their things into a van, and a trailer and left for Warped Tour. Without him. Tony was filled with guilt and despair because he had let down his fans. But to his surprise, he got many letters and gifts from them that had first been given to the other band members. He spent most of his summer watching live videos from his computer screen and longing for the days that he would be able to play with band on stage and feel the vibrations of the strings on his green guitar against his bony fingers. After a grueling nine week wait, that day had finally come. He was able to join the rest of the guys at Warped Tour in his hometown – Denver, Colorado. The band opened with "Divine Titles", and  the feelings of hearing kids scream the lyrics to his songs back to him, playing guitar, hearing confetti shoot from the light above him, were definitely very divine.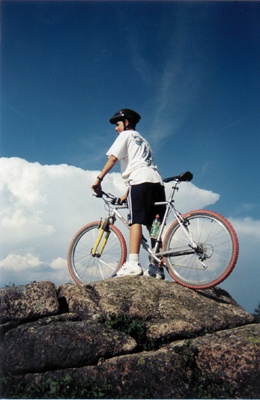 © Jeremy S., New City, NY