Father and Son
July 2, 2016
A building with linoleum floors shiny enough to reflect the underside of the gurney being wheeled upon it. Floors cleaned to the level of sterility where the mildest rubber soles squeak upon them loudly as muddy sneakers after a rainstorm. Double doors shoved inward on their hinges, left swinging in the hallway after the scurrying procession has passed. A white room, a woman propped up on a hospital bed, and a man holding her hand tightly as she screams. The man now holding his newborn child. He dips his head, putting his nose to the little bundle of warmth he carries, and whispers,
"I love you, son."
Birthday balloons tied to folding chairs strewn haphazardly around a white picnic table, the remnants of children's laughter echoing in the air as the man picks plastic forks off of the ground. Gathering discarded paper plates in the colorful plastic tablecloth, he brings the bundle to the garbage can in the front of the house, depositing it there before returning inside to his wife and child. Atop the boy's head lies a party hat made of thin cardboard still strapped on by a cheap elastic under his chin. The man picks up the child and holds him close.
"I love you, son."
An orderly cavalcade of not-yet- adults marches across the high school stage, accepting their diplomas half for themselves and half for the legion of cheering parents calling each of their names. After the last graduates have seated themselves, the caps fly through the air like wedding doves. A boy walks up to a man who wraps him in an embrace so big he feels as though, for a moment, both of his parents are still here to hug him. Tears leaking from the corners of his eyes, the man squeezes the boy tight and says,
"I love you, son."
Church bells ring and an organ fills the high-ceilinged chapel with joyous tones that vibrate through the hearts of the attendees seated for rows and rows. The brightest smiles in the room belong to the newlyweds, save for the man sitting in the front row to the right of the aisle. This time his tears gush, gathering in rivulets within his crow's feet before cascading down his cheeks. As the groom looks into the crowd he meets eyes with the man sitting closest to him, and reads his lips, hearing his voice despite the cacophony of cheers.
"I love you, son."
The sun beams down upon the silent cortège making its way between the headstones. Three figures holding hands and dressed for a day in the park, two tall and one small, stop before a grave. The earth surrounding it is well-worn from frequent visits, and dried flower petals lay scattered about from earlier bouquets. The boy who is now a man kneels and lays down a fresh bunch of red carnations upon the smooth stone, smiling distantly. He stands and looks at the boy next to him, whose hands are shared by his two fathers. The child looks up and smiles as the man who was once a boy takes him in his arms and says, with a heartfelt warmth passed on from his father before him,
"I love you, son."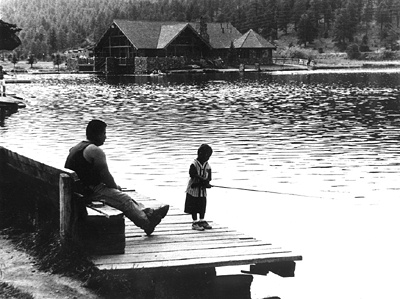 © Ryan P., Greenwood Village, CO