Waiting
May 1, 2016
He was always there waiting, sitting in that old, dusty chair she had bought him for his 60th birthday. His face was haggard and pallid, his eyes half closed and crusty, and his hands clasped on either arm of the chair tightly, emphasizing the thin bones in his hands. He was balding, the now grey hair wispy and his skin drooped like a wilting flower.
This particular man sat in that very same chair for 20 long years. Of course he ate and drank, but now, his body was too frail and weak to even move. He faced the heavy truth that he would soon meet his end as he considered his life, feeling the heavy weight of the idea of death fall upon his frail shoulders. He looked up into the impenetrable darkness that surrounded him for those 20 years physically and mentally, and unclasped his hand from the arm of the dusty chair, the crackling of his bones moving echoing throughout the room. The outstretched hand trembled as if he was reaching for something only he could see.
He cried her name one last time, his voice filled with longing for something he could never have again. Memories washed over him like the soft foam of the sea. Guilt, remorse, sadness, and a feeling of unfulfilled hopes and dreams filled him. She had died and left him at the age of 55, leaving him depressed and lonely. He had given up on all of the ambitious dreams he once had and sat in that dark, decimated house they had once lived in together, just waiting for her to return.
Tears fell from his unseeing eyes. He was blinded by his sorrow, by her. With defeat, he returned his shaking hand to rest on the arm when a sudden pain shot through his chest. He shuddered and twitched in that same chair, so violently he almost fell to the floor. Suddenly, an odd numbness nulled the excruciating pain that was churning in his chest. Finally, he saw nothing. Not even darkness. Nothing. But then a bright flash of light shone before him, and his cracked lips rose up ever so slightly, forming the first smile he had made in all those years that slipped from his grasp.
He died in the year of 1984, December 21st, on a cold, gray winter day, in an old chair with the memory of the last time he saw her smile in his mind.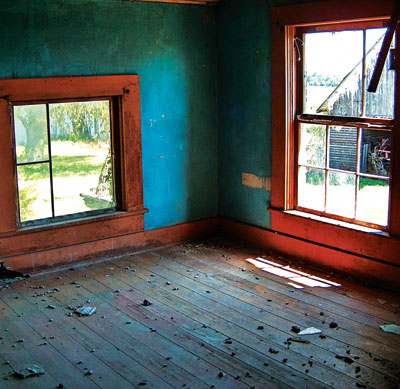 © Sean C., Princeton, IL