My Blue Rose
February 5, 2016
Tell me one thing? Did we ever mean anything to each other? Was any of it real? Or were you always my big blue rose. Something that I had to work off until the day I lay breaking in the millions of sharp shards of our love. You were my only home. The one place where I knew I would always be loved, but I guess I was wrong!
You were just a myth waiting to disappear, somebody who was never going to stick around. So I guess it's all my fault for being blind. I loved you. I loved you more than Romeo loved Juliet, more than Jack loved Rose, more than Noah loved Allie. I loved you with a heart so pure that I'd be the yang and you were my yin.
You should've had the brightness that cared enough to tell me the damn truth when we met! Why the hell couldn't you tell me the truth? Why couldn't you let me go before I gave you everything I had, knowing that I could never trust anyone again? All because of you! Was I just some bet? How much did you get from breaking my heart? Was it a hundred? Five hundred? A thousand? What was worth so much that you had to brighten my life only to stomp all over it later on?
The only piece of you that I will ever even tolerate for the rest of my life, is this necklace. The only thing that was ever true. I should have known. I should have known that all you ever wanted was another name on your list! Another name to cross off! You were a myth that I believed to be true. You are, have been, and will always be the one thing that I can never reach out to no matter how many ends of straws I grasped!
You know what the funny thing is? I'm standing here pouring my heart out to you and you don't even realize. You don't even flinch. They were all right. Everyone told me that you were just going to play me, and I still fell straight down, hoping that you'd catch me.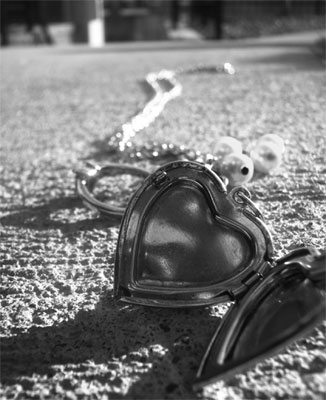 © Francesca Y., Robbinsdale, MN