Chocolat Cake
January 29, 2009
Tobey was ready for this. He was going to run away and never come back. He made sure he had his cell phone, sleeping bag, MP3 player, and $3000 dollars from his savings packed in his backpack. Pulling out a scrap of paper from his drawer, he quickly scribbled a note and shoved it underneath his pillow. It was about 6:00 A.M., and he was extremely careful not to make a single noise in the house. He slowly made his way down to the kitchen where he opened a cupboard and took out a granola bar. As he opened the back door, a creaking noise which sounded like nails on a chalkboard filled up Tobey's ears. Luckily, both of his parents were really heavy sleepers. Besides, they wouldn't care about their only son running away. He ran out the doorway and immediately jumped on his bike.
Opening the back gate, he started pedaling towards the street. Making a sudden left turn, he followed the road for four, long miles until he reached the bus stop. He parked his bike next to a stop sign. It was completely useless to him now that he was going to his uncle's house. That was where heaven was located on Earth for him. He could just tell his uncle that his parents went on a cruise for a month and think about the rest later. As he walked to the bus stop, he noticed another person standing there with a box in her hand.
He hurriedly asked, 'Do you know when the bus is coming?'
She replied, 'It should be arriving in a few minutes. Where's your stop?'
'I'm stopping in Evanston; that's where my uncle lives,' he said.
The girl said, 'I'm Alice. My stop is downtown at my parents' house. I stayed up all night baking a chocolate cake for them at my friend's house. Today's their anniversary!'
Tobey scoffed and replied, 'You still remember their anniversary? I can't even remember their names sometimes! In fact, they're the reason I'm standing here!'
In a quiet voice, Alice replied, 'Running away? I remember when I did something like that. I couldn't even last three minutes without them. When I came home, tears were streaming down my parents' faces even though I'd just been gone for a short time.'
'That's because they love you, unlike mine. They define the word workaholic. Plus, I'm 15; and they still treat me like I'm an adult already. They never help with anything I do and don't seem to be interested in being a parent at all! For example, never have I seen them at my football games. Because of them, kids at school try sympathizing with me because they think my parents are dead! Even when I was a kid, they never played catch with me or comforted me when I was sick,' Tobey shouted. 'My uncle was the only one who understood me and my needs. He acted like the dad I never had. I swear on his soul I'm never going back.'
'Maybe you never see them because they're too busy working to earn money for you and the family. And don't get me wrong; but maybe you ask too much from your parents. You have to remember that they're your family, not your servants,' said Alice. 'Treat them like this and you'll never realize how lonely you'll feel when they're not here.'
'Who says they're not my servants? Isn't it their job to do everything I want them to do?' Tobey angrily barked. 'By the way, you're no one to tell me how to treat my parents!'
'I'm sorry,' Alice somberly answered. 'I'm sorry that your parents have to put up with such a selfish and unloving son.' Her eyes were slowly filling up with tears.
Tobey slowly realized what he had done. 'Oh, man. Sorry, I didn't mean to-
The bus screeched to the bus stop and the doors opened. She climbed up the stairs into the bus. Tobey was standing still in shock. As his life flashed before his eyes, he realized that his parents acted like this unintentionally. He thought of the time he got a Barbie doll for Christmas. The tantrum that he put on put a face of sadness and disappointment on their faces. He never thought an unknown girl could show him the error of his ways.
Tobey was given a reality check when the bus driver loudly honked his horn and shouted in a Brooklyn accent, 'Yo, whack job! You gonna ride the bus or what?' He could see Alice's face in the front corner.
'No, sir,' Tobey answered. 'I've gotta go home to my parents.' He could see the look of joy on Alice's face. As the bus doors closed and it zoomed away, Tobey took off his backpack and pulled out a piece of paper and pencil. Quickly, he wrote and started folding the piece of paper into an airplane. With great conviction, he threw it into the air and ran towards his bicycle. He had a lot of apologizing to do when he got home.
The paper plane flew right through the back window of the bus and onto Alice's shoulder. She unfolded the paper and saw it was a letter, which read:
Alice,
I never gave a second thought about my behavior towards other people. I always thought I was doing the right thing and that the rest of the world was against me. Today, you proved me wrong and showed me the error of my ways, something my parents couldn't do for 15 years. Thanks, and sorry I yelled at you. By the way, say hi to your parents for me!

Tobey

She gave a smile and dozed off, knowing it would be a long ride.



An hour later, Alice woke up and got off the bus. Carrying the cake, she made her way to a white gate. Opening it, she spotted her parents and ran to them with joy. Even though they looked completely blended in, she could still know where they were. As she set the cake on their grave, she coyly shouted, 'Happy Anniversary!' lighting up the cemetery with joy.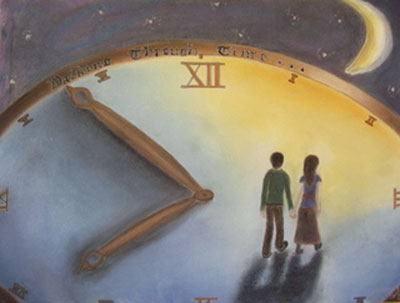 © Carollynn G., Hawthorne, NY