Beginning and the End
January 28, 2009
The scene took place right before my eyes, but there was nothing I could have done to prevent it from happening.

It was early Saturday morning, and I was on my way to the Fifth Third Bank that was right down the road from the local police headquarters that I worked at. We had recently received a call from an unknown person, stating that they knew who had committed a string of B and E's (breaking and entering) in the Woodburn Area.
I looked to my right in the passenger seat at my mentor, Jack Gugle. He was assigned to me on the very first day that I had arrived; teaching me everything there is to know about law enforcement. He was one of the top in the agency, with a record breaking number of successful drug confiscations and arrests. He also happened to be one of the youngest and most handsome. With his dark brown hair and metallic blue eyes, he certainly was the 'chic magnet'!
'Are you ready?' He asked me, startling me from my daze.
'Yes, of course,' I replied. 'Are you sure that he was last seen only a few minutes ago? Here at this bank?'
'Yes, I'm positive,' Jack stated. 'You need to have some more faith in our department.'
I opened my mouth, starting to protest, when Jack held up his hand. Of course, I shut right up.
We had arrived at the bank, and there were cars bustling all over the place. It seemed that this was one of the busiest days this bank had ever had. That was to be expected though, for it was only a week before Christmas.
Jack and I both stepped out of the squad car and casually walked into the building. Within less than a minute of being indoors, something caught my eye. It was Drake Bole, the man whom we had come here to arrest and take back for questioning. He stood over in a corner of the bank, his hands dug deep down into his pockets. His trench coat was long and filthy, covered in mud splatters and other colored stains. I motioned with my hand over to Jack to follow me as I made my way over towards Drake. In the corner of my eye I saw him nod his approval.
'Drake Bole,' I announced, 'we are going to need you to come with us. We are from the Lansing Police Department. Not only is there a warrant out for your arrest, but you are also a suspect of several breaking and enterings that have occurred in the Woodburn area.'
Drake gave me a sly look, and slowly said, 'I didn't do none of that stuff. You got it all wrong, missy. I'm just a normal city folk. Now, about that warrant, there is no such thing like that after me. So, if ya don't mind, I'm just gonna stay right on standin here.' Finally, he quit talking, and smiled an innocent smile.
'Well then sir,' Jack spoke for the first time since we had been in the bank, 'I guess we are going to have to do this the hard way. My partner here asked you to come with us, and you refused. So, I guess you'll just have to get arrested in front of all of these people.'
'Not to mention, all of that rubagge that you just told us, about you being innocent? We all know that that is a lie. You are being very deceitful, and you do know that it is a crime to lie to a Federal officer, don't you?'
Drake snarled his reply, 'Yep. You had better leave me be now, lads. It sure would be a shame if both ya'll had some sort of accident that messed with your pretty little faces.'
'All right, that's it! No one threatens my girl- I mean, partner!' Jack growled from behind me.
I smiled at his mistake in calling me his girl'something. That's okay though, I would discuss it with him later.
By now, Jack was advancing toward Blake with handcuffs. As Jack was moving ever closer to Drake, Drake's hand was moving closer and closer to the inside of his jacket pocket. At the same time, I reached for my own gun, that was situated on my belt, but Drake was too fast for me. He yanked it out and aimed it straight for my forehead.
Then, at the last minute possible, Jack leaped in front of me. I almost screamed and then remembered that I was one of the ones who was supposed to save all of these other citizens in the bank. I had to keep my composure.
Two more shots were fired. I looked over my shoulder at a man who was clutching his leg, a pool of blood surrounding him. Another glance over my other shoulder to find a woman holding her stomach, red coloring staining her white shirt.
I finished removing my gun from its holster. All in one motion, I swung it around and aimed it right for Drake's right shoulder. Bam! I fired it once. It was a dead hit! He dropped his gun and gripped his shoulder tightly, screaming in agony. I ran over and kicked the gun away from him, then threw him onto the ground. Ripping my handcuffs out of my back pocket, I clipped them around Drake's left wrist and the other side of the handcuffs to the metal desk that was screwed into the ground right next to where we were standing.
Finally, I had time to go and check on Jack. I ran over to where he was lying on the ground.
'Jack, are you okay?' I whispered to him.
'Yeah,' he replied, his voice hoarse.
'How in the world are you still okay?' I questioned. 'You jumped right in front of the bullet!'
'I'm fine,' he said, 'I'm wearing a bullet proof vest.'
'Oh! Thank goodness,' I exclaimed.

Then, everything went fuzzy, and pretty soon, I couldn't see anything at all. The world had gone black.


I awoke seven years later. I had been trapped in a coma, a prisoner in my own body. Drake had managed to grab his gun, and aimed it at me once again. Then, the next thing you know, I was in a coma due to a gun shot to the head. Apparently I had become a decorated officer sometime during the past seven years I had been recognized as honorable.
How would I continue in my life? Living in a world where everyone is older than I had last remembered, and not knowing who was still alive and who wasn't? I have no idea, but I look at it this way: it's a way to start my life over again.
That doesn't mean that it won't be a challenge, because it will, and the truth is, I'm scared.

Hmm' maybe I'll start by finding Jack!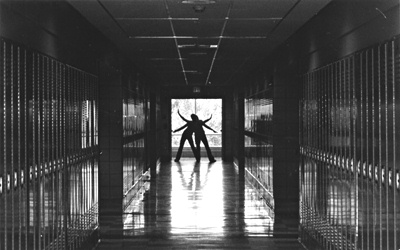 © Sheera G., Marblehead, MA