The Evaluation of April
February 10, 2009
Today is the day it all started my 9th birthday party. I was born to Sarah Morris and Lonelle Morris. Outside I played with my sister and brother as my family arrived. As I watch the gift table fell up
'Ariel come on and get washed up'
'Do I have to?'

'Yes now come on'
As I took my bath and my mom washed my hair I just smiled.
'What you smiling for girl'
'Nothing' I replied 'just happy'
'Come on silly girl let get you out'
'Five more minutes please'
Okay five she said then she exited the bathroom .I laid back in the tube and drifted off. Suddenly a knock at the door awoke me. I seen a head peek in and to my surprise it was my father.
'I have something for you' he replied
Daddy always had a gift for me. As I looked out the bathroom door I noticed that no one was in the house. He walked in and closed the door behind him.
'How you feeling today'
'I feel great' I replied
As excited I was to see what he had for me I didn't so right.
'What? What? What?
Out he pulled a black blue ribbon bow. My eyes grew as he opened it slowly. When opened I saw a pink diamond heart necklace.
'Give me Give me Give me'
'Not till you get out and get dressed'
As he helped me out I ran to the room. As he sat down; daddy had never watched me get dressed before so I hurried to get dressed so he wouldn't see me. When I was finished getting dressed I look over to dad to give me my gift but the look in his eyes did not feel right. He can over and zipped up my dress and he brushed my hair in to the pony tail style he always loved. When he put my tights on it felt as weird as it had before. On one of these days I had wished my brother or sister had come in. He sprayed some of moms perfume on me. After I was completely and he put the necklace around my neck
'You're the most beautiful women in my world'
'You're my diamond princess'
A few minutes later I could hear my brother and sister running down the hall to my room, at the time my brother Antonn was 15 and my sister Desiree was 5.
'Ariel Where are you?' Come on everyone is waiting on you. They busted through the door as soon as my father was putting me down.
'Come on Ariel' Antonn said with worry on his face. He grabbed my arm and out the door we were. Running outside I was greeted by a mob of family members.
'You're so pretty' said Aunt Sheila and Uncle Charles
That is a pretty dress is all I heard as I ran through the crowd. I was suddenly stopped in my tracks lost in a daze as I saw Uncle Lovell. Now Lovell was my father's twin brother. As much as I wanted to keep moving, I was stuck scared as he inched his way towards me.
'How's my favorite niece in the world' he scoped me up in his arms and walked over to the porch where he sat me down.
'Is my baby girl doing fine?'
I nervously shock my head yes.
'I have a present for you' he then reached in his pocket and pulled out while I waited patiently for someone to save me. Out he pulled a black blue ribbon bow box. As he opened my eyes got wider. Inside the box was a pair of pink diamond heart earrings. The same to match the necklace I had received earlier. He put the earrings in my ears. I searched for my bother to come and get me now like before, but he didn't come.
You're the most beautiful women in the world'
'You're my diamond princess'
I soon grew scared. I had seen plenty of gifts before but none like the one my dad and my uncle had just given me. In a nick of time I spotted Antonn running across the grass towards me. My uncle then picked me off the porch,
'Run along now your brother is coming'
As I hurried up and ran off I turned around and what I saw was two men standing, smiling, and waving at me.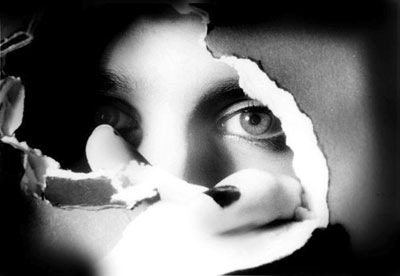 © Tabatha B., Peoria, IL