Finding Home
October 2, 2015

Finding Home
Push, push then tears of joy. Babies cry a mother's touch is the most precious thing in the world. The soft skin of a newborn in the tight grips of a loving mother she held me so tight are heart beats intertwined. There was instant connection chemistry right off the bat. You could feel the love in the room. I was trapped in a tight cramped closed in space for what seemed like forever. Voices spoke to me as they were fascinated by my movement and growth. I was unaware of what I was experiencing all I knew was I was eating well in there. Ripped through a tight hole I was released into another world. Colors so many colors as I escaped the cave there was a flood of smiling faces.
I was handed off to a women her bright smile peered through her pink lips she wore a brown glow she was obviously happy. I wasn't sure what to call her just yet but I recognized her voice I had heard it many times in the dark hole. I felt safe in her arms she gave me a feeling of protection whatever this place was I knew I didn't want to leave her side. She placed a gold emblem neatly and gently around my tiny wrist and stared. I lay on her warm brown skin as she looked down at me flashes all around the room left a beam in my eye. A young man stood beside the bed his face seeming to still be in shock was it because of me? I recognized his voice as well. He snipped the snake connected to the hole in my stomach. Did that mean no more good food? If so I wasn't going to like this place.
A lighter woman lifted me from the grips of the women's brown arms. She placed me in a heap of soft cushion then she urged a cold shinny thing that connected to the circles on her outer face placing it on my chest what was she doing? I lay helplessly "alright all good" she announced then some more confusing words I didn't quite know yet. I lay beside the brown women in the heap of cushions for a while lots of new and excited faces strolled through the door carrying colorful floating circles and furry inanimate objects. I was tugged left and right everyone seemed to love me I was the center of attention. I could get used to this.
Many of my fans came and went. The room was now clear just me the brown skinned women and the young man. They spoke in a more serious tone now I could tell something just wasn't the same "we can't keep her" she mumbled out of her tightly pressed lips. Smiles turned into sad glum faces and clear liquid ran from the brown skinned women's black and white identical sockets. I lay in the mist of their conversation I knew they were speaking of me I could tell by the way they gazed at me after every sentence. A petite pail women entered the room with a dark square like organizer she asked some questions and jotted down on a slip as pail as her. Her skin slightly creased all over I could tell she was the opposite of the youthful brown skinned women who held me once more.
After more questions the young man held the brown skinned women's hand tight as he stroked her black silky hair. Shortly after I was wrapped tightly in a cocoon as the white women surged me out of the brown skinned women's grasp. She seemed to put up a fight as if she didn't want to let me go. Soon she gave in after horrific high pitched screams she kissed me above my two sockets her lips were warm and moist. The young man did the same he seemed angry his eyes fire red and his fist tight around the brown skinned women's. Clear liquid was now flowing from both of their eyes. As the pail women now held me in her cold crinkled unwelcoming fingers. I could feel the difference her feel wasn't that of the brown skinned women's loving warm touch.
We were headed out the door loud screams and more trauma the brown skinned women kicked her legs up snatching the tubes out of her forearm. Many people had to restrain her. Why was she so distraught? They will bring me back I'm not going anywhere. The look in her eyes was now cold something inside told me I wouldn't see her again. Where were they taking me? The room was now a long hallway and the Image of the brown skinned women became a blur.
I cried as I began to miss her cozy affectionate clutch. I will never forget those eyes and that smile her voice resides in me she is a part of me even though we've spent an insufficient amount of time together the connection was like no other. I was as comfortable in her arms as I could ever be I was sure no one else could take her place. Will I ever see her again? Why didn't she keep me? Did she want me? Did she love me? She held a special place in my heart and the bracelet clipped tightly around my wrist I knew it would mean the world to me someday. The question now is where is home?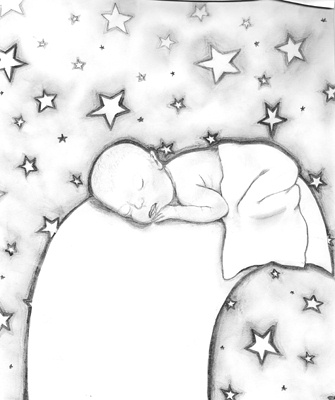 © Julie H., Findlay, OH