Back seat driver
June 28, 2015
    Angry over the little things. Water rushes over the rocks turning up pebbles and clouds of mud. The child bends down to pick a salamander taking it out of harms way. She needs a moment to sort things out in her head. A back seat driver jumped up swerving the wheel, and the car skidded off the road. My mother is in the trunk and my father rolls in one of the wheels. Their child crys in the passenger seat. The air bags floated up to the sky like ballons, let go. So when the breaks slam so do we.
    Now mothers face is tight. Her tention is pulled taught. Snow falls onto the frozen ground. It is a quiet grey snow, with no wind no sound. Unstopable it falls like the flakes in a snow globe. The child sees the storm but doesnt dare speak up for she doesnt want it to grow, or worse disapear all together.
    When the car slows down to a slop the rusted muffler slowly drags on the ground, leaving a painful trail in the gravel to remember its self by. The dusty oil covered peice of metal falls from the car, taking with it chips of green paint and years of upkeep.
    The child is afraid now. Back seat driver wistels a toon which seems out of place for somewhere so desolet. The chils goes to unhook her seatbelt, fast. He is faster though. Backseat driver grabs the door handle. He has hands of iron, rusted iron. With dust red hands he takes the key from the egnition throwing it out onto the ground. It sits on the frozen ground with the worms and bugs, unawhere.
   Moms latch is especially tight, and the trunk wont give way. Dads head is still dizzy from going around and around to him we are ever moving foward. As for the child... well she sits in scilnce with backseat driver. Neither one will talk so he turns on the radio and they both look at the glass.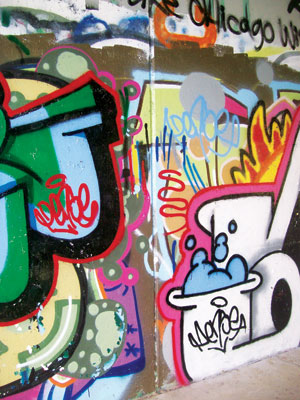 © Michelle W., Ada, MI