Mums and the Sun
MAG
March 6, 2015
I rose with the sun, but she was already awake. I imagined that it was Mums who brought the day again. Every morning, as I was fighting consciousness, my Mums would slip out into the horrible darkness. Hours later I would wake up again, this time for real. A few rays of light would steal through our dirty windows just as my Mums returned, all sweaty-smiley.
I had seen her run a few times – so, so fast. She was the only one fast enough to run the distance each morning. Out of our crumbling neighborhood. Past my half-broken school. All the way to somewhere where it was a little less cold and a little less angry. She would find the sun sleeping there. She would smile, kiss his cheek, and tell him that it really was time to get out of bed.
Even on those days when we stayed up late, working on homework or chatting about the boy who gave me a flower, my Mums was always up to fetch the sun in the morning.
I imagined that the sun rolled back in the sky and begged for five more minutes. Sometimes he probably didn't want to wake up at all. Who would want to shine down on such a cruel world? Mums could coax him, though. Even on the most horrible of days. She always had the perfect words spoken with a certain softness that made the most unbelievable things make sense and the most ridiculous jokes sound almost kind of funny.
No one knew how important she was. Not her dad, who kicked her out because she was too tall to belong in his church. (That's why she told me he gave her the boot. I never did quite believe that story.) The guys she dated, one by one, they didn't know how important she was. Or perhaps they didn't like how she kissed the sun. My teachers complained 'cause she couldn't give me what I needed to succeed. I needed books and tutors and something called "intervention."
"What is intervention, Mums?"
"It is when you don't fit inside their underfunded boxes because your eyes are too bright. So they try to buy another box for you, but they don't realize that your eyes are gonna shine outta any box they put you in, girl."
It was always that way. The great big world versus Mums and me. Nobody knew how special she was, 'cept for me and the sun. That's cause we knew what it felt like to wake up to her smiles.
Then she was gone.
They told me she was gone forever. That I should just get used to waking up to broken miniblinds instead of Mums' smiles. But I knew they were lying. I knew that somehow, we had still won. All I had to do was look out the window and say good morning to the bright, sleepy sun.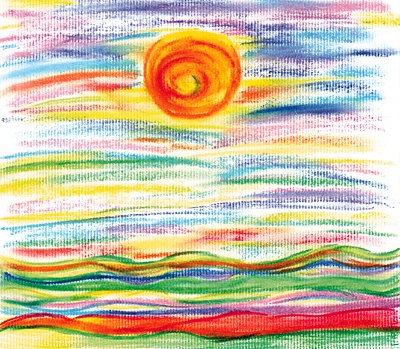 © Jennifer W., Saint Albans, WV