Mirrored Emotions
January 10, 2009
"I need to tell you something." The words are mechanical, not my own. I turn to walk away, into privacy, and she follows without question. She does not suspect me, and why should she? I've perfected my mask with lies and "I'm fine"s, without one careless error. I see confusion clouding her eyes, and I almost stop myself out of sheer instinct: my unbearable need to protect my friend, keep her from hurt.

We've reached privacy, a corner of silence, where nobody else will interrupt. I part my lips to speak, yet I know I physically cannot force the words to fall out of my mouth. So, instead, I roll up my sleeves and watch horror replace confusion.

The seconds seem to stretch, and when my tear-filled eyes flicker from my scars to her face, I realize she's as close to breaking down as me.

The question trembles in her voice and lingers in the air. She doesn't need to say anything complex and she doesn't need to scream. It expresses all of the world's concern in one word, and is the most powerful question she could have formed.

"Why?"

Emotions overflow and I begin to sob, tears overtaking breaths. She stares at me with the eerie patience of a person who has nothing to wait for. I open my mouth once again so I can confess and give her what she has deserved for months: the truth.
***
"I need to tell you something." The words come out stiffly for her, it's easy to tell. I follow her without a second thought when she turns away. My eyes are locked on her retreating figure as she backs herself into a corner. Questions run without rest, taking worry to a new height.

She opens her mouth to speak, but seems to think better of it when she closes her mouth again. On a normal day, I'd frustrate her with endless questions until she spit out whatever words she was chewing on; however, this doesn't qualify as a normal day.

Her expression is strong as she shoves her sleeves up her arms, revealing what hides underneath. I lock my eyes on her forearms, choking on emotions. I can't breathe anymore. My eyes trace up and down, focusing on each scar separately. Horrible mental images form, involuntarily: bloody razors, uncontrollable breakdowns.

My breath is shaky before I look at her. when I do, her eyes search mine, and I wonder if she finds what she's looking for.

"Why?"

I realize, vaguely, how broken I sound. I don't make an effort to talk again, and instead focus on controlling my expression. I acknowledge the tears tracing my face as she takes off her mask of calm in front of me, broken and weak. She opens her mouth to speak, and I know she will speak with truth in her voice, which is all I ask of her.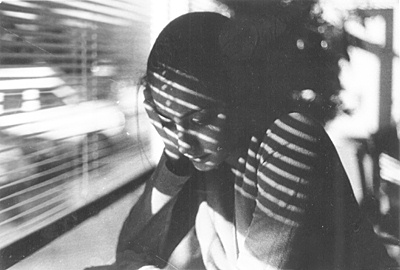 © John O., New City, NY