The Onion
MAG
December 24, 2014
You cut the onion,
skins of color buckling as your knife impaled
the nematocysts' prisons.
Free at last!
they scream as they float toward your eyes
and rip out the tears just as
you ripped their roots from Mother Earth.

I feel your waxy hands tapping
the small of my back as I cough
from the spice burrowing into my tongue.
I have finally accepted
your sesame onion dressing,
the dressing I know like the back of your head
the head that I watched as you stuck onion chunks
into my sandwiches and crisped my sawdust bread.

But now the winds have swept you away
through the icicle hallways,
leaving the counters to shiver and empty skins to fall
into the sink with a crumple and
a sigh.
I grab another onion from the long queue of others
cowering in the corner of the cutting board,
and I lose myself in peeling you away
until I am left with the little white heart, and
it is silent.

I buried the little white heart
in your wild garden
and after countless sunrises
and the robins singing to ear-popping yawns
I spot a green head wiggling out of the snow,
and that is all I need to know
that you are still here.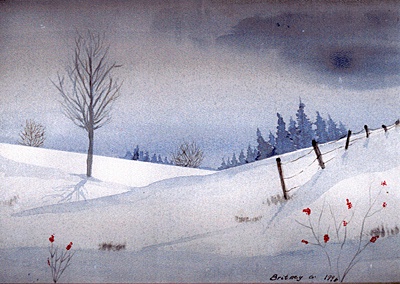 © Britney G., Green Bay, WI