So This Is It
December 29, 2008
"So this is it," Marie Rhea whispered, as she sat down on the slightly moving swing. The air around her was tense and eerie. There was silence for a few moments, as her words lingered in the air.

The silence was broken as a car drove by. "So this is it," Carmen Martinez echoed. Eyes slowly lifted from their harsh watch on the cold ground.

"This is not it, it can't be, we didn't' go through thirteen years of torture just for this. We didn't go through those carefree moments, those awkward moments, those clique fights, just for this. We have to do something, we just can't," Suzanna Pablo trailed off; anger and fear lit her dark brown eyes. She looked down, willing the single tear, rolling down her cheek to disappear. Hoping everything would be all right.

"We must though, tomorrow, people are heading off to college, some to the East Coast, and some to the west. Some of us are going to be scattered in between, and some aren't leaving at all. We'll always be Porterville High's class of 2009, but now we have to go different directions," Javier Samuel whispered.

His words cut through the tension like a knife through butter. Serious faces held on guys, tears streamed and lingered on girls. Slowly one by one the students of the class of 2009 stood up, hugged, and said their last goodbyes, until only one sat on a swing; alone.

"So this is it," Marie Rhea whispered. Her words lingered in the warm autumn air.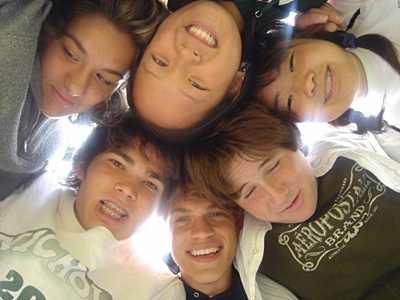 © Zhihan C., Hudson, OH