Memories Forever
January 5, 2009
It was the last day of high school, Nicole and I had just graduated. We were having our last Friday sleepover before we would probably never see each other again. It was the last time we could laugh and laugh until we cry and pee our pants. The last time we could gossip about the kids in school. The last time we could play our favorite game, bear. It's tag in pitch black and pure craziness. Someone always got hurt when we played, but that's what made it so fun!

Nicole and I grew up together in Chicago. We went to preschool, middle school, and high school together, but college was going to unfortunately separate us. I was off to California to be a teacher. And Nicole was going to New York to become a Pediatrician. It would be the first time that we would be over 2,000 miles away forever.
The First Time

"Kristine, remember how we used to hate each other?" Nicole asked

"Yup. Even though we went to the same schools we never were always best friends. It wasn't till middle school that we noticed each other." Kristine responded

"Yeah, noticed each other. You always gave me dirty looks! We never talked but for some reason you always hated me!" Nicole said remembering every look.

"Well you know I was always jealous that you had a cell phone before me and you always had the same shirts as me. For some reason that bugged me and I decided to just give you dirty looks. I also thought you hated me without knowing me." Kristine answered

"Well I did hate you but only because people said you were talking about me and you always gave me those dirty looks and I didn't know why. We had never talked to each other but for some reason hated each other. Wow!" Nicole replied with shock.

"That was pretty stupid! Wait do you remember how we started talking? Like after we met it only took one week before we started to call each other every day with our drama." Kristine asked.

"Your right. You know I think it was that girl Sofia. Remember you guys were in the same class and became best friends, but afterschool we always hung out and became best friends. Then I think on her birthday she introduced us and we couldn't stop talking and just became best friends." Nicole replied with the biggest smile.
"It was her and then Sofia got really jealous that you and I became best friends. Wow. Well if it wasn't for that day I don't know where I would be without you." Kristine answered.
"Aww. I love you child!" Nicole replied
Six Flags Great America!
"Omg! Kristine remember the time we were at Six Flags Fright Fest for your birthday and we just finished stuffing our faces with ice cream and cheese fries then we had piggy back races?" Nicole asked with the biggest smile on her face.
"Yup. And then we tried putting three people on a piggy back ride and everyone was staring at us!" Kristine answered, laughing at the dumb things they did.
"Oh yeah. That old lady was looking at us and thought we would get hurt and fall, but we made it! Oh man good times, even though everyone was all crabby that day." Nicole said picturing everyone struggle with the piggy back ride.
"How about when we were in that extremely long line to ride the Batman and that random boy started to flirt with you? That was so funny cause you started to flirt too." Said Kristine, as she couldn't stop laughing and making fun of Nicole.
"Shut up. He was kind of cute and I mean it was boring waiting for almost an hour! But how about when you had to sit next to that creepy guy on the ride. That was priceless when you looked at me all scared." Nicole said laughing at Kristine.
"Oh man. He was so creepy looking at me the whole ride then like his hairy, ashy elbows were touching me. It was disgusting!" said Kristine really grossed out.
"You remember when your parents started to call non-stop to see where we were and we didn't want to pick up. Then when we picked up after the ride and we were in so much trouble." Nicole said laughing with Kristine.
"Yeah! And then we were supposed to go to the front gates immediately and we decided to get our henna tattoos. And then it took like 10 minutes to decide what to get and they were like rushing us cause they had to close." Said Kristine, remembering the good times.
"But we decided to get best friends and then we couldn't pick where to put it. Man that was funny. Oh then the guy gave us back like $5 dollars instead of $1. And we looked at it and just like walked away really fast and went to your parents." Nicole said missing all the memories they have together.
"Then the car ride home was funny. Just the two of us in the back seat dancing the night away to Metro Station. Oh I miss that day." Kristine said sadly.
"That is a day I will never ever forget. A memory forever!" said Nicole smiling.
"Me too!" Kristine said smiling with her.

That Summer

"Once we were friends I knew that we had a friendship that could last forever! It started with that first summer after we became friends. Remember we could call each other for everything. Whether it was to gossip with, smile with, cry with, or yell with. We always knew we it just a call away." Kristine said
"Yup. We could stay on the phone for hours, from 10:00 pm till 5:00 am. It never got boring. The only reason we hung up was cause our phones died out. Not because we wanted to because we had to!" Nicole replies smiling.
"Not only did we talk every night that summer but it was the first time that we couldn't see each other every day. But we were still always able to tell each other everything and anything. We didn't hide one secret from each other." Kristine said
"Even when we went on vacation and couldn't talk because your weirdo butt doesn't have long distance calling, we stayed besties and nothing changed. I mean who doesn't have long distance calling?" Nicole asked.
"Man, wow! That summer really did change our lives. From then on we both had a new Best Friend to go to." Kristine said
"Yup and even once school started we were closer than ever. Even though we were in different classes it only took a second to start a conversation. It was like we haven't talked in 5,613 days, but it was only 6 hours." Nicole replied.
"That summer was the best summer ever! A memory forever!" Kristine said.
"I agree a memory forever!" Nicole said smiling.
Well those are just some of the memories we have that will last forever! The first time we met, the day we went to Six Flags Great America and the summer of our lives! But unfortunately this sleep over might be our last memory together now that we our both off to college heading our separate ways. Not seeing each other for that whole summer didn't change our friendship and I hope this next couple years not seeing each other won't either. So I guess we will have to say goodbye but just know we will still have our memories forever!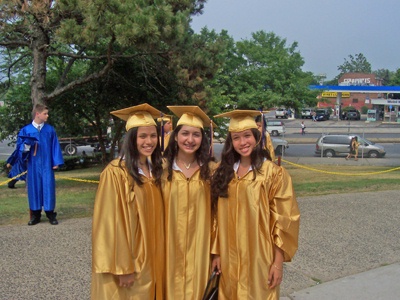 © Elizabeth E., Elmhurst , NY