Nothing
October 17, 2014
I stand before the sea, the breeze tears into my soul as I look across the gray water. The waves welcome me as I lose my toes in the chilly surf, sand gently sucking at the worn ankles buried in its abyss. My flowing dress is blue and gray striped, conforming to my tough body in the frigid breeze. Goosebumps begin to make a tan appearance on my skin. I wrap my hands around my body, trying to convince my soul to warm. The gray sky promises rain, and I wish it would snow. Snow would warm my heart.
I feel nothing as the fishing boat roars by, leaving the smell of its catch in its wake. The emptiness I feel is felt in the glorious sea, the crashing of the white foam is matching the soft thudding of my heart. My dark hair is swept away in the increasing wind, and I feel nothing. I am numb to the world, my thoughts refusing to form sentences. The notebook against my chest whispers my thoughts, the pen holding my feelings.
I walk farther into the surf, the cold salt water against my taut stomach. The waves brush against my chest. The numbness in my soul bleeds outward into my fingers that clutch my powerful biceps. My silver necklace is cold against my neck, the shamrock burning into my skin. I stand there, listening to the crashing of the waves, feeling the wind against my neck, the sand threatening to drag me into the depths, much like you did.
The gray sky is beautiful and invites the broken humans out into its light, the happy people too scared to be destroyed in the raw power of the gray. The beach is empty and silent, not a phone rings. A lone surfer is attempting the unnaturally calm waves. He falls into the water, and I silently watch him as he struggles to pull his lean body back onto the black and green board. The sea claims him again, and I know that he is going to lose the battle of nature and thought. I know that I lost the battle of nature and thought. The dismal water begins to fill his lungs, and he does not surface again. He is gone. I feel nothing. That is what scares me. I feel nothing.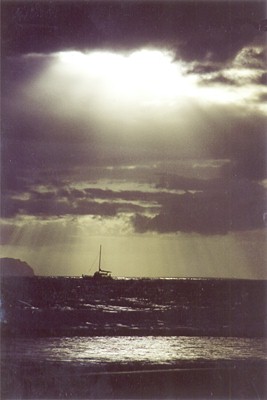 © lily H., Kekaha, HI