The River
October 20, 2014
It was another cool, Spring day as the boy looked down into the clear water. He could see the fish swim in their schools and hear his friend's laughter from a few yards away. He delicately dipped his big toe in, trying not to disturb the dancing fish below. The water was a perfect temperature; not too cold, not too hot. Perfect. The boy sighed in content as he lowered himself into the water, the shcool of fish still undisturbed by his presence.
"Andy!" His beautiful girl called with a smile. "Andy, look!"
Andy did as he was told and looked down to see the school of fish dancing around his toes and he smiled widely. He looked back up at the beautiful girl, her hair turned golden in the sunlight and reached for her hand. She took it and lowered herself into the water, as well. The fish soon took to swimming arouns the young couple's feet, the girl giggling as the scales tickled her feet. Andy had never seen fish that werent't horrible skittish and it was lovely. A laugh escaped his lips and he kissed his beautiful girl's cheek.
Their friends soon joined them, watching the fish swim and talking about nothing important. Things as simple as a soccer match or a TV show. Things that didn't hold any significance, but would be remembered vaugley in their older years. The Spring sun set and the navy blue sky revealed the hundreds and thousands of stars. The group looked up at the dazzling lights, but only Andy saw the true beauty in them. He knew he'd remember this night for a long, long time. Not because anything extraodinary happened that would change his life, but because of the little things. His hand brushing up against his beautiful girl's. His best friend pulling at his dark brown hair while ranting about the unfair shot taken at the last match. The fish swimming around his feet. The river. He would remember his day at the river for as long as he lived. Maybe not every detail, but enough to know and remind him, life isn't about the big, flashy, movie scene moments. Life was about the little things.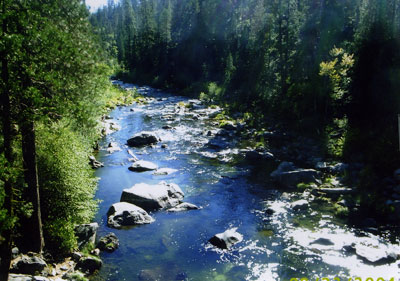 © Laycie C., Stockton, CA