The Fear
December 19, 2008
Kalevi was showing me around, showing me how to work bear traps. Not that I was paying any attention. I was breathing in the cold, brisk air that winter brought. It was early January and as a senior in high school, with the majority of my class credits if not all, skipping a few extra days of school was no big deal. I had time off.

Kalevi had graduated last year, after we started dating. He was on his way to twenty and me to nineteen, not like it mattered though. It was just a birthday. It didn't really signify anything except that you had been on the earth for so many years, but how do we know that twelve months really makes a year. What if it was just six or a week, or an hour?...

"See, don't ever set your foot in the middle of this thing, or your legs will be in some serious pain."

"Yeah…"

He turned around to look at me. His eyes seemed soft and gentle, unusually frightening but not threatening.

"You were sweating last night," he grabbed my hands with his, "Another bad dream dare I say?"

I just smiled at him. I didn't want him to know about my dreams, not like they really signified anything to me. Just about everything…

"Nah, I just got hot, really. I'm fine."

He smiled back me, then releasing my hand zipped up his big jacket. The same one I had seen him when he saved my life for the first time. He brought a smile to my face by tickling me then pinching my nose.

"Your perfect Vicky," he whispered as he continued walking to look for more places to set bear traps, "Just perfect."

"In every aspect, so are you."

He didn't hear me, but I could tell he knew I said something by the way he cocked his head back and hesitantly stopped for such a brief minute if you hadn't of been concentrating you would have never known.

"You coming?"

I smiled and ran towards him, my big jacket making me strain some, just to keep up. I felt morbidly obese, not that I had a problem with weight, I just couldn't stand the feeling of being tied down. It was horrendous.

The rest of the day contained the usual stuff, swimming, throwing leaves at each other, arguing about what to eat, and then falling asleep in each other's arms. Or at least me in his.

The dream I had wasn't really that bad. It was still shocking, seeing as I had my correlations to Kalevi again, but I tried to ignore it. I tried to ignore that all the things in my dream somehow ended up matching Kalevi in this was or that way, or the lake house.

I was sitting at the edge of the mound that the lake house was on, swishing my feet in the water, when I noticed Kalevi standing behind me looking out into the sunlight. Stuff always seemed to bother him, but since I was terribly bothered at the moment I didn't dare ask what was bothering him. I don't think I wanted to know.

"Victoria, be careful…"

I raised my head sharply and turned to Kalevi asking if he had said something.

"No?"

I just stared at him after he had responded, was I hearing things? It wouldn't make me any weirder if I was, seeing as I happened to be the most popular senior, the most pretty senior, the most this and that senior, and the weirdest senior. Hearing voices wouldn't make any difference. None at all.

"Victoria have you been okay lately?"

I turned to stare at him for another brief moment, my brain thinking a hundred things at once and my body feeling the sudden urge to just get away from where I was. Weird. I never had the actual urge to run away from Kalevi, but for this prolonging moment, every muscle in my body was telling me to get away from him as soon as possible. Again though, it's not like it would be that easy. What would be my amazing excuse? Nothing…because I wasn't going to run. That's it.
"My ankle just hurts."

"Of course Victoria, your ankle."

I swear if I didn't have will power my body would have bolted me out of there.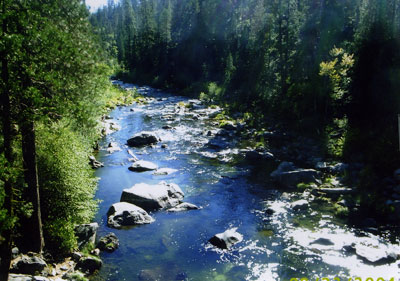 © Laycie C., Stockton, CA