Gregory
December 15, 2008
Noise. Flames like the greedy hands of demons crawling up the stairs. Crashing. Pounding, sudden pain, then merciful black nothingness of throbbing silence.

Gregory, suddenly awake, sat up and immediately wished fervently that he hadn't. He eased himself back gently against the boards. They were sloshing wet. It hadn't been a dream. Rolling gingerly to one side he sat up, slowly this time, wincing as he let his back sag against the low side of the swaying vessel. He thanked God that the ceaseless movement no longer nauseated him, he had been sick for most of the five days he had been on this seemingly endless voyage. His rough brown homespun monk's robe clung, drenched, to his sturdy frame. The sail sprang taut with a snap, then fell limp and lifeless against the mast. Erik lurched out of the cabin and over to the mast. He pulled the ropes tight, securing the canvas anew then stumbled back into the warm smoky cabin, long forked beard dripping. The harsh laughter of the crew was drowned out by the pounding waves as the door slammed shut. Gregory pulled his knees into the circle of his arms, which were tightly bound together at the wrists in front of him. Bowing his head to the stinging rain and sea-spray, he slipped back into deep dreams. . . .

Back home, in England, the sea whispering in the distance against the rocky shore line, giving the air a crisp tang. Ambling the neat paths of the monastery were he had lived since he was orphaned as an infant, with the sun warming his tousled brown thatch of hair. . . The brother's Gregorian chants (his namesake) echoing through the thick stone walls. Quills scritching on parchment to the metallic smell of ink. The brothers were strict, but kind. He would end his apprenticeship and join the brotherhood in just two weeks, on his 15th birth date. Dust motes dancing in the evening sun, gleaming golden stacks, rows, shelves of books and scrolls. hushed, whispered pages, dust as deep as the years . . . Gregory smiled in his sleep; it smoothed away the taut lines of exhaustion and worry that creased his face. But the problem with dreams is that eventually . . . you have to wake up.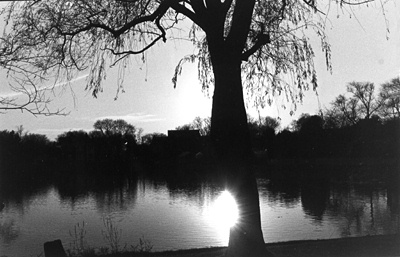 © Chuck K., Marblehead, MA