Brown
August 1, 2014
I sit down in my usual chair in the far back of the brown-colored classroom and put my feet on the table, my destroyed sneakers fitting in with the dirty atmosphere. I take my hood and pull it over my head, dirty-blonde hair sticking out like pine-needles. A short, balding man sits at the desk at the front of the room. I'm so far back, I can't tell who he is, his facial features a blur. He rests his head on the palm of his hand and stares into a laptop that had been left behind on the desk.
No one teaches in the detention room. It's not like any of the other classrooms. It's rectangular, cramped, dull, and dim. The windows barely open, the doors creaks, and the desks rattle. It's almost as if it was forgotten at some point, as if the summertime maintenance crew had left this room out of the re-painting schedule. And, hey, maybe they did.
This room is weirdly comforting to me, even with all of its flaws. Maybe it's all the time I've spent here, or maybe it's that the beige colors of the room represent my personality. Maybe it's because a room like this has so much potential, but no one ever bothered to put that potential into play.
Perhaps the teachers send me here when I do the slightest of things, because they know the way I feel, and they want to show me something; a sign I'm not understanding. They send me here to think about the bad things I've done, yet, all I can focus on is the ticking of the clock, the dullness in the room, and the light that shines off of the brown walls which only I seem to perceive.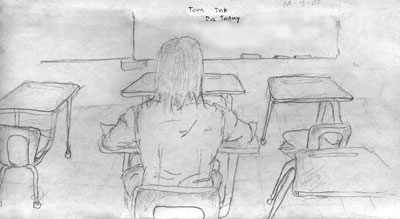 © Christopher M., Dededo, GU