Gabrielle
July 26, 2014
The mosaic-patterned gravel parted where her foot had once wiggled incessantly—a nervous tic—revealing naked cement. "Gabrielle, hold still please," Brandon Stanton, founder of Humans of New York, a photography blog documenting New Yorkers with intriguing backstories, rebuked. The twenty-year-old muttered under her breath but complied, propping her left sneaker up on the step she was sitting on and flashing a peace sign, her two thin gold-plated copper rings glinting in the resplendent fall light. A zephyr blew through the alley's grimy void, forcing her wet polyester pants to cling to her scarred thigh. As if on cue, the camera clicked once—twice—thrice—and it was over.

Briskly yet almost imperceptibly, life in the backstreet went on without her. Gabrielle had her back faced a rickety wooden door peppered with a wretched feral dog's scuff and urine marks, and could vaguely hear the soft clinking of porcelain plates against each other, the squeaky shuffling of the kitchen crew's feet, and the angry murmuring of the dishwasher chugging at full capacity. As she watched Brandon's hunched, oddly disproportionate back fade into the hopeful distance, Gabrielle sighed. Rummaging through her pockets, she desperately fumbled for and lit the last cigarette from an exhausted red-and-white Marlboro box. She drew a deep puff, closed her eyes, and craned her neck backward, letting the peppermint-and-tobacco blend swell around her throat in a warm, calm, and fleeting embrace.

Later, Brandon edited Gabrielle's caption in size 10 Helvetica: "I wish I tried harder when I was younger, so my parents feel like they left Puerto Rico for good reason." He could still hear her raspy, quivering voice, and as he stared at her picture he could see only dying flames of resignation behind her hooded eyes.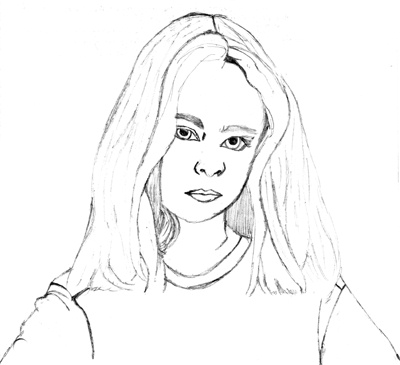 © Mary K., Natick, MA