Only Need Thoughts
March 27, 2014
"As humans, we need words; as lovers, we only need thoughts. Isn't that a crazy concept? The mutual thought of two people to promise to love and protect one another. The thought of putting so much trust into one person who is inevitably going to f*** up anyways because they are only human. The thought that everything is going to be okay… and you learn that from their actions, not by what they say. The thought that you belong and you belong with someone and that thought is probably the only thing you think about when you are in his or her arms. The thought that Love exists and it's proven through them."
This is the text that he sent to her at eleven o'clock at night even though he knew that she was fast asleep. She always would go to bed early because of her odd sleeping habits and he understood this and learned to love this about her. After almost eight months, he learned new things about her that he would also grow to love. The fact that he would know that she would wake up to this put his mind to rest and put his heart to ease and with these two things, he could now fall asleep. The blanket that covered him was hers because she let him use it as a remembrance of her in her absence. The gentle breeze from the ceiling fan would remind him of when she would blow her carbon dioxide into his face, as he would try to do work. Sometimes it would be gentle; sometimes it would be slightly obnoxious but he would kiss her, and that would distract her long enough to stop the blowing for a short time. The dim light coming off of his bed stand light would remind him of her radiant love, the love that she would express with those tight hugs that she would give him when she sees him and those kisses that she would leave on his cheeks and lips that he would feel for days. He would read and reread the notes that she left in his writing journal and on lined paper and he would find it funny how their love has grown and evolved through those past almost eight months. He knew that this love was going to last even through the toughest of challenges that they will inevitably face.
He slept peacefully that night.
The next morning, he woke up to a message from her. She sent it at about five in the morning. He read it and enjoyed what he read. She talked about how she loved what he wrote. How she always loves what he writes. And sometimes, even the intellectual things he says. Things that he has said have gotten her through some of her hardest situations and she is extremely appreciative of that.
Another text from her appeared on his phone which said, "I wish I could just spend one night curled up safely in your arms."
Thoughts started flooding his mind. He thought and thought. He thought about all the things he could do with her in one night. He thought about how nice it would feel to finally spend one whole night with her. He thought about how great he would feel waking up and the first thing he would see is her beautiful face. He thought about all the joy that could come with one night.
Then, he thought, "How? How could I spend one whole night with her? I can't have her over and she can't have me over. We need to go somewhere." And it dawned on him. It was like he got hit in the face with intelligence. He figured it out. He remembered a scene from his favorite novel and decided to apply it to real life.
He sent back, "How about we go camping?"
They both asked their childhood friend to cover for them. They gave the friends their alibis. Everything was set for their night-long endeavor.
The night they spent together seemed perfect. They had the whole night to themselves and they enjoyed every second of it snuggled up in each others arms while they shared that one large sleeping bag in a wonderful camping tent. For one night, all the pain and evil of the world had disappeared for they finally had one another at last because even the devil knows not to bother a couple in love. They spent that night together and woke up still intertwined in each other.
He said, "This will never change." She had a puzzled look on her face so he clarified, "I mean the fact that we have so much joy being together and the way we are in love and nothing can ever change that."
She kissed him in agreement. A good-morning kiss, the first that he has received. He hugged her tighter because he was overjoyed. He loved her and she loved him and they knew that they loved each other and with Love, they knew that they could face any challenge because Love only needs thoughts.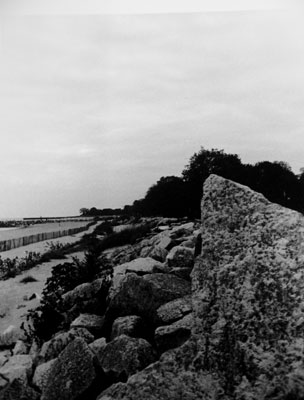 © Sean M., Apple Valley, MN