MIrror, mirror
December 30, 2013
Lira stared at her reflection, cheekbones and eyes and negative space. Skin fading from porcelain, ivory to vampiric translucence. Grey eyes fading into the shadows surrounding them. Laugh fading into wistful smiles. It was enough; it was as she expected. She could not see death at her shoulder, attentive as a lover, whispering sweet nothings, endearments, temptations. Still her secret, hers alone. She had once been enamored with death, as blind and adoring as a little girl with her first love. It no longer made her heart quicken, woke tiny sparks in her limbs, replacing those with a constant, unremitting, gentle sort of longing.
She turned away from the mirror, fingers steady, flicked on the stove, set the kettle over it. Sylvia Plath, she thought, before she could stop herself. The gas could kill you if you wanted it. But she was tired, too tired to block the cracks around the kitchen door, too tired to make the decision. Making tea was automatic, a comforting gesture, a reassurance that the worst was over, you just needed something warm to calm your nerves, everything would be alright. Her hands were steady as she poured the water, earl grey spilling colour as it swirled. Once she would have been tempted to let it splash over her forearms, and more tempted by the knife left carelessly in the middle of the counter. But that had been when she wanted to feel pain, wanted to see blood, wanted some certain sign that she was still alive. Blood was so unmistakably there, real, glowing crimson with vitality, the only true red in the world of which her hair was a pale reflection. She had stood staring into the abyss of uncertainty that surrounded her on all sides, and clung to what she knew to be immutably, indelibly true. Pain meant life. Skin bled when cut. Water contains no calories. Tea contains no calories. Mint gum contains 2.5 calories.
But she had moved beyond that now, beyond the feeling of drowning in an ocean invisible to everyone else, caught and gripped by soundless currents and lungs screaming for air.
Lira put the mug down on the counter, fingertips glancing against the side to check if it was hot, untempted to linger. She no longer needed pain as proof of existence.
She was already dead, she knew; her body hadn't realized it yet, but she had drowned long ago. She was Ophelia, last breath drawn, a memory in her skeleton, a wraith.
She took a sip of tea, warm, but not enough to elicit a responding heat in her blood. Never enough. It was only seawater that moved through her veins now, visible blue beneath her skin.
She stood, holding her mug, to return to her room, to sleep. The mirror drew her gaze, as it always did, as she passed. It reflected nothing. She was alone.
It was only the ghost of a smile that touched her lips.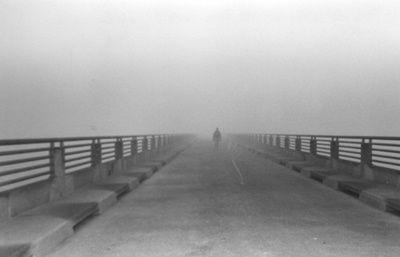 © Becky G., Westerville, OH