Snow Child
December 17, 2013
The woods are never quieter than they are tonight. The birds have all abandoned this desolate place and the chirping insects have all perished. A hush has fallen upon the world, and nothing is willing to break the fragile spell. Even the snow is silent as it lands, although I strain my ears for any soft whisper of a sound.

The snow. The snow is like stars, bright stars that fall to the ground from where they hang in the smooth black sky and pile up around my feet. They are the fallen angels, discarded from heaven, tumbling down to join their earth-bound brethren.

I walk through the trees in a dream, seeing everything and yet nothing really. I don't need to pay attention to where I am - I already know the way. It was my feet that made the dirt path here, wearing the wild grasses down to bare earth. They carry me now, although the whiteness hides the ground from me. The trail has been swallowed up by the snow.

My hands are shaking, I realize. They're wet and cold and bright pink. I didn't remember gloves when I left. I think fleetingly of going back, to get my gloves if nothing else, but when I turn to see the glow of the oblivious windows, a pang of loneliness and longing stabs at my heart and I know I can't return.

If I return, I might stay forever.

Snow does not discriminate. It falls over everything equally, rounding corners and edges and sharp, hard lines until the world is all gentle and smooth and soft. I could just stay here, out in the woods. I could lie down and let the snow cover me, too, cover me in fallen stars and the downy feathers of an angel's wing. And then I would be just like everything else, indistinguishable from the rest of the forest.

And the footprints I left in my wake would be filled in, swallowed up by the snow.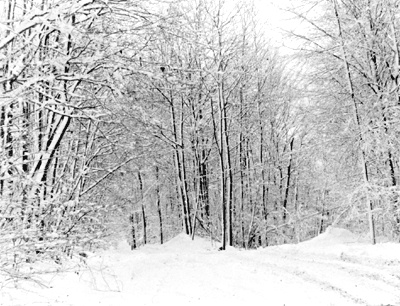 © Thomas S., Portville, NY