What the Security Camera Saw
December 8, 2013
It focused on the parking lot. Soccer moms and Mr. Moms hustled around the lot, children trailing after them, sometimes by a sleeve or by a hand. Teenagers sulked behind their family, fresh-out-of-school blues settling in with nothing much to do besides nothing. Occasional twenty-something's would appear in its line of sight, young men with low hanging black skinny jeans, black band shirts, and strange colors brightening the ends of their pitch black hair. Metal poles and piercings would catch the light and cause a slight glare. Sometimes these twenty-something's would look harmlessly plain, with light clothes and polo tees. Clusters of girls wandered in and out, and over the course of a few minutes, about a dozen polo wearing adolescents and purse carrying young women walked by her.

Her pale, peppered hair was twisted up into a loose and old-fashioned bun, bones sharp beneath her cheeks. A creamy knitted shawl hung over her hunched shoulders in the most lady-like of ways, burgundy dress barely hanging on to her old, tired frame. It quietly observed the dozens passing the lady by as swollen fingers shakily handled her plastic grocery bags. Her face looked weathered, deep canyons pulling from the corners of her eyes and mouth, ghosts of smiles evident on her skin but not in her expression.

One boy, somewhere between a sulking teen and a rebellious twenty-something, saw this woman's troubles. It silently observed him as he approached her.

His hair was dyed black, although it seemed to have once been blond, judging by the pale roots. The tips were bright blue, large holes in his ears and little silver dots shining above his chin. A few posts stuck through his eyebrow and the cartilage of his ear and the flesh of his nose. His eyes were light, though, a pale, golden color, nearly matching his Nirvana tee. He sported black jeans and converse and was slouched as he walked, hands in pockets, pants just a little too low.

She looked up at him carefully, but he smiled and said a few words. The corners of her mouth raised, the ghost of smiles and laughs returning and becoming more than memories. He started to pick up the plastic bags and set them in the back seat of her car, finishing the deed in a short minute, smiled again, and pushed the cart into the cart stall. He jogged back to where his parents were letting the engine idle, waiting for him to return.

It watched in silence as the old lady and the older boy – the young man – drove their separate ways.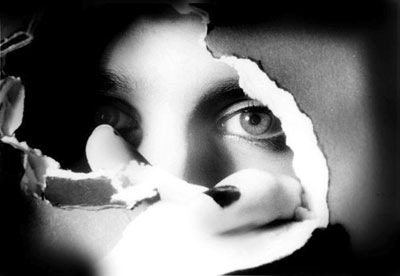 © Tabatha B., Peoria, IL