The Bush
November 23, 2013
The sky was a clear, crystal blue, with wisps of clouds floating along gracefully. A small stream meandered lazily across the forest floor, tumbling over rocks and dirt. Trees formed a leafy canopy above my head and sunlight was desperately trying to penetrate the soft, green roof. All this was accompanied by nature's finest orchestra; the rustling of the leaves, the trickling of the stream and the chittering of the animals, who all seemed to coexist perfectly together.

I was in hell. The sun may not have been able to pierce the leaves of the trees, but the heat still seemed like a physical force, trying to knock me over into submission, radiating off every rock and stone, beating me down. At first I thought the rivulet would ease the inescapable torridness of the day, but no sooner had I stepped into it, than it had soaked through my stockings, doing nothing to help my blistered feet. Eventually I stripped off my stockings as I had my high-heels, only to expose them to a whole new level of debris on the soft squelchy earth. And nothing could have prepared me for the cramped confines of the bush; trees were everywhere, all around me, lined up like soldiers escorting the condemned, never letting me out of their sight, their trunks forming impenetrable prison bars. I swear they were whispering to themselves in their own language, the creaks and groans of their swaying branched somehow showering me with their utter contempt. I would never belong in the bush, never become part of their world; that had been clear from the start. I was made from city life, but fingers that could type at 120 words per minute would do me little good out here if they couldn't start a fire. I was a stranger here, an outsider, and it almost seemed like the bush was acting as one force, with one mind and one goal: to ostracise and eliminate anyone or anything that threatened to break its fragile harmony, namely me.

I checked my mobile phone again, but I was still far out of range. Stupid Rina, I thought, who drives through the bush without a full tank of fuel anyway? Stupid me for not noticing, stupid Melissa for having a party so far out of town. Stupid mobile, stupid shoes, stupid dress, stupid feet, stupid heat, stupid trees, stupid life. I checked my phone yet again and muttered a few choice words. Finally I decided that it was hopeless and began to walk back the way I'd came. After about half an hour I stopped in front of a huge tree. I stopped in frustration, I'd seen this tree ten minutes ago; it had small impressions where its eyes might've been and there was a huge split in the bark like a stern frown. The overall effect made the tree look almost human. But the most discerning fact about the tree was, by far, the fact that there was no way its mouth was natural, someone had carved it on there, and judging by the sticky sap oozing out of the corner, it had been done recently. I whipped my head back and forth, suddenly paralysed with fear. I only just realised that many of the other trees near by had faces carved into them; some happy, some sad, some angry, others hopeful, all carved in a ring. Suddenly the bushes to my left started to rustle and I stumbled back into the centre of the circle, hands raised in surrender.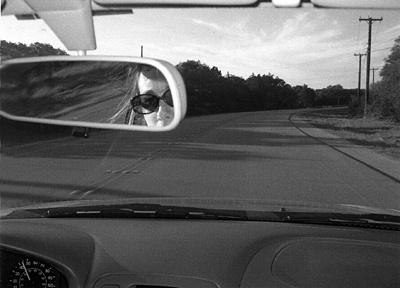 © Roxanne D., San Antonio, TX