Fresh Ink
October 24, 2013
Harper rifled through her closet with purpose, tossing old handbags and crumpled sheets of notebook paper across the room. She hadn't been through her closet since she graduated high school, and picking apart the cluttered space now seemed long overdue. It was almost like a time capsule; each forgotten notebook and journal spilling out details from her teenage years, begging to be read.

But she couldn't bring herself to even open any of the spiral bound books that she once toted everywhere. She hadn't written in years. Not since Colby died.

Colby had loved that sort of thing; always searching for the next great story. She kept a pen behind her ear at all times, hands poised to jot down anything she heard. She dreamed of moving up north (she loved the snow) and become a journalist in Boston. It was a lifestyle so perfect for Colby that Harper had always accepted it as a fact, something sure to happen. She believed, until the moment she found out differently, that Colby was somehow guaranteed a dimly lit office in the city, living her dream. She pictured her with that pen behind her ear, clacking away at a keyboard; forever in search of the next great story.

Harper's hands still dug relentlessly in the closet, searching. She knew that old thing had to be in here somewhere. She wouldn't have thrown it away, would she?

Colby didn't deserve the fate dealt to her all those years ago, and she still haunted Harper's memory. You don't forget a person like Colby. Not only did she invert Harper's world when they met 15 years ago, but she touched the lives of so many other people. The eighteen years she was gifted were well spent; she filled every one of them with unforgettable moments. She loved sitting on the porch swing and writing for hours. "Time is such a silly thing," she would often comment, lost in her thoughts. While some people had a glass half empty, and other half full, Colby's glass was overflowing.

As the pile in Harper's closet continued to shrink, her eyes scanned the shelves and floor. She knew exactly what she was looking for; it was etched in her memory along with all of her former life's details, buried for the past eleven years.

She kicked the closet door in frustration, sending papers flying even further across her room. If only Colby were here.

And then she saw it. It stood out against the dull white that seemed to envelope the rest of the closet. Her eyes narrowed, making sure it was really here. After all this time searching, it sat snugly in the corner next to a stack of old polaroids dating back to high school- freshman homecoming, senior prom, spring break in the Keys, and countless pictures of young girls with tans and shorts, smiling into the camera. Harper's own brown eyes stared back at her, a smile playing on the edge of her lips and a smattering of freckles across the bridge of her nose. Where had all the time gone? Why had she stopped writing? Why did she try so hard to bury all those memories? Colby deserved more from her.

She slowly turned her eyes to what had prompted her to tear apart her closet just minutes ago. The typewriter was exactly how she remembered it. The coral paint was beginning to chip and had acquired a thin layer of dust. The keys still proudly boasted every letter of the alphabet, faded and written in pristine block lettering. The company name, Royal, was written in the same thick black type.

When Colby bought it, just three weeks before she died, it was already considered an antique. Harper fell in love with it the minute she saw it, vowing to use it everyday until she finished the novel she'd been working on for seven months. But, she sighed, that was back then; before her world collapsed and writing took a back seat in her busy life.

What happened to that promise? Just because Colby wasn't here didn't give her the right to sweep it under the rug, pretending that it never existed. She made a promise to her dead best friend, and she was going to keep it.

Before she knew what she was doing, Harper reached for the old typewriter. It was heavier than she remembered, and hoisting it on to her desk was a task that took some resolve. For a moment she just stared at it. She considered selling it, putting it back, and smashing it. The memories associated with it were much too strong to revisit, even after eleven years.

Never once did it occur to her to actually use it until she sat at the desk, poking the keys apprehensively. It probably wouldn't work, anyway. Didn't these things have to be maintained? Filled with ink?

She slid a scrap piece of paper into the machine, just to try it out. She started with her name:

Harper Grace Kensington. June 15, 2012.

It worked. She closed her eyes for a moment, relishing in the smell of fresh ink. Her hands found their familiar place on the keys and she found herself reliving all the moments she shared with Colby.

She began to write.

"It was the summer of 1999, and everything was changing…"

Harper smiled, letting the words take her away like they had so long ago.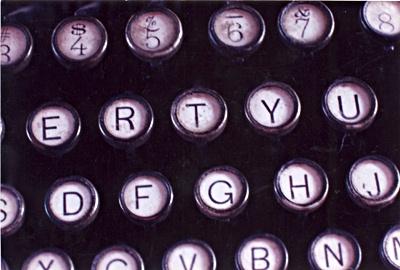 © Mary A., Fullerton, CA