Seven Minutes
October 16, 2013
The day that I turned twelve was the day the doctors declared me dead. Well, clinically dead—and for seven minutes. Those seven minutes I lost from my life forever. They are a void part of my memory that remains suspended in front of me, but is always out of reach, like the stars in the night sky. My mother told me to be careful that morning. If only I listened to her.
I woke up to the sound of my neighbors' snowmobiles plowing through last night's snowfall. Every family on the street had a snowmobile except mine—we had a shovel. My parents never exactly adapted to life in Vermont; therefore, they never adjusted to the large amounts of snow we received in comparison to the snowfall back in Virginia. They both worked at home and didn't need to leave the house. If I wanted to go to school, I dug my way out first.
With aching muscles, I walked in the frosty air on the icy ground towards school—late again. And to make my day worse, I slipped on the corner right before the school and tore my pants at the knee—happy birthday to me.
I missed my math test by the time I arrived at school and my teacher made me stay in for recess to make it up. I don't think that woman ever liked me. She always glared at me through the corner of her eyes during class, but never directly made eye contact. She even denied me the honor of the class singing "Happy Birthday" to me as they did with every other student on his or her birthday.
After school the world seemed very different. The sun came out and melted most of the ice on the ground and made the air more livable. Some of my friends saw me outside as I left and offered to go ice skating at the nearby lake as we always did on Fridays. We didn't have many more Fridays left before the lake unfroze at the end of winter, so we tried to skate as much as possible before then.
I threw my bag into my bedroom and tossed my skates over my shoulder before heading out the door. My mother, of course, went over the safety rules and placed protective guards on my elbows and knees while on the porch only for the neighborhood to see. She advised me to be back before dark, but I never dared to come home late anyway.
I loved to wear my striped blue scarf while I went ice skating. My friends wore theirs too. We skated in circles, we played tag, and we did "figure eights". Time was always an issue, however. The days were never long enough. And one by one my friends started leaving as I kept skating. Only three of them remained with me when we heard a crack.
We all stood still on the ice as we tried to discover where it came from. I turned around to check behind me and the next thing I knew I was underwater—trapped by the replaced chunk of ice that forbade me from escaping. I pushed as hard as I could, but it was useless and decided to conserve my oxygen until I could no longer.
I awoke in a hospital bed, surrounded by several doctors and nurses. Pipes and tubes extended from my body in all places. I remember trying to ask where I was, but the oxygen mask blocked my voice from speaking. As the doctors moved aside, I saw my parents frantically pacing back and forth across the hall. They left the house for once.
Life changed dramatically for me when I returned home. My parents shoveled all the snow, my teacher said my name with sympathy and not disgust, and everyone else acted nice to me and smiled at me. I lived in a world of plastic. All these actions were fake; and I couldn't escape to the past as if the ice still trapped me underneath. And the seven minutes that I can't remember was the town's memory of the forgotten boy who used a shovel.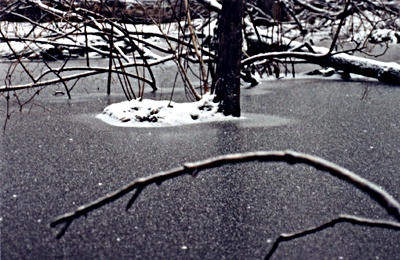 © Anton J., Philadelphia, PA