Insanity
October 15, 2013
Sobs. Horrible, choked, heart-wrenching sobbing, filling the room and echoing through the empty hall.
"Shut it."
It's a cruel voice, void of any warmth. "You- get up."
I splash through the red that coats the floor. I'm no longer sure whose blood is whose. I'm not sure it matters. Hanna spasms as I pass. The blood still spilling from her throat tells me it's too late for her. I'm not surprised. Stilettos are thin, but they're sharp.
I trip over Laurel's body, her grotesquely twisted neck cradled in Aria's lap. She shrinks further against the wall, tugging Laurel's body with her.
Suki meets me in the center of the room.
"Why?"
Her voice is strained and hoarse from screaming. In answer I shake my head. Her hollow eyes search mine, seeking safety, comfort. I don't understand. There is nothing she could gain from me.
"Y- You're insane," she chokes out.
I smile.
My knife twists into her stomach. I slit upwards, and she blinks. A tear slides down her cheek as she falls to the ground.
I push open the doors, walking down the hall and out into the cool air. The wind is refreshing and cleanses the sticky sweet scent off my skin. Closing my eyes, I let the cool air wash over me.

Behind me are footsteps. Slowly I turn, and Rea's eyes meet mine.
She looks me over once, then holds out her hand.
Silently I give my love the knife.
When she steps forwards to slit my throat, I smile.

It hasn't been for nothing after all.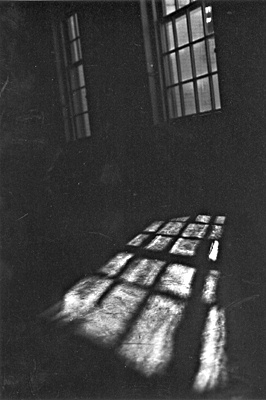 © Mary A., Fullerton, CA