I Will Remember You
October 2, 2013
My wife lays pale in front of me. Her beautiful pale skin has now turned into a pasty gray replacement. I watch my wife's chest slightly rise up and down, as if it were nearly impossible. But I know she is not my wife, not my girl friend, and not my friend. She is my soul mate and lover and shall always be my other half. I am nothing, nothing at all, without her. I watch my wife dying... The cancer slowly killing her.
Her hand brushes mine. I feel the tears that I've willed not to spill, slip over my cheeks and drip onto her skin. She smiles slightly, whispering," I thought you' d never do that."
I drop my head onto her chest. The tears wont stop. I whisper over and over again," I love you, I love you, I love you."
Her face lifts up to mine and I see she wants to kiss me, and I fear it's our last.
She whispers in my ear," I will always love you."
I feel her hand loosening and the tears stop instantly.
I know I'm screaming as they pull me from the room.
I know I'm crying when they put the coffin into the damp earth.
I know she is with me as I think of her...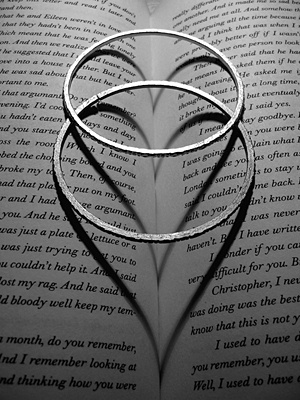 © Julia K., Old Tappan, NJ