The Un-Named Tragedy
July 12, 2013
Everyday he came to the park with his beloved dog, Scout, to work on his writing. Everyday, he would rip up his work in fear that someone would not like it. Everyday, he would return home empty handed and feeling different from when he came. But every night, he would push those thoughts and feeling away, leaving them to pile up. This caused them to build up force and strength. One day, he went to the park, as usual, but something felt different inside him. Something inside him had broken and a wave of cold memories came rushing to him faster than Niagara Falls. Pushing them away like he normally did was clearly not going to work, so he decided to ignore them. Settling down in his favorite spot in the park, he set up his writing supplies as he normally did. Scout to the left, lunch to the left of Scout, blanket scrunched up behind him, and his almost page-less journal on his lap. Blue ballpoint pen ready to write, he waited for an idea to come to him.

Nothing. He still couldn't shake the cold feeling in his heart and in his mind. Taking a deep breath, he sank back into the blanket, feeling destroyed.

"What am I?" he asked himself.
"A sick person who can't control, his thoughts. That's what", he replied. After a few moments, he decided that he couldn't stand being thought of like that, and he changed his mind.

"No, I am a writer. I just have had a hard childhood, a horrible case of writer's block, a cold, heavy heart, and the thoughts of a criminal," he decided.

Suddenly, an idea hit him. Write about himself! He didn't know any other person who had more experience messing up in the world, than he had. No author could fully imagine his life, let alone describe it in enough detail to manipulate the reader so that they felt the same way he felt. And what a story they had to tell! His entire life was a dark conflict. His life had the dark secrets, the horrible, tragic deaths, the awful fights, the cruel childhood memories starring his pathetic, family less, wife less, criminal-like existence with only a cold heart and an old dog to keep him company. Feeling a flurry of mixed emotions, he started writing something, that for the first time, he wrote for himself, not for the harsh critics and judgmental reviewers. This story had meaning to him, which was all that an author needs to write a passionate piece.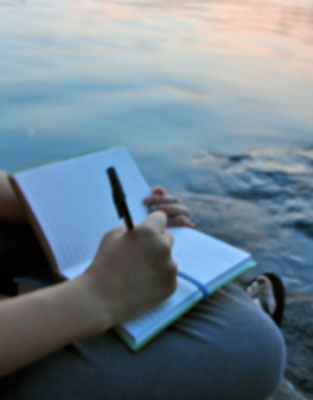 © Grace K., Port Washington, NY