Three Minutes
May 10, 2013
I have been 18 years old for exactly fifteen minutes. I've spent nearly all of the 18 years striving to know myself, failing pathetically, and the remainder of that time learning about my love, which I'd like to think was more of a success. Since I've been 18, I've spent thirteen whole minutes riding in my boyfriend's car to my new home– my boyfriend's childhood home not too far from my ex-house. I've spent the last two minutes scoping up his– now, our– home in the quietness of midnight while he directed me around in suppressed excitement then retreated to make something quick to eat. I almost sprint to where he said his room was and push open the big, brown door.

The sixteenth minute:
I stand in the doorway clutching my few belongings, and my eyes are automatically drawn to his bed– a futon, actually– much too big for just one person. Funny how our eyes always search for something like the bed in a room– the most obvious, telling things. I slide over to it and press my hand against it; it's poofy. A sweet aroma envelops the air as I plop down on it, and I smile at having crumpled the too-well made comforter beneath my butt. Directly in front of me sits a too-often played X-box connected to its mothership of a TV. To the left of that is a shrine: a guitar, amp, countless picks, and other music things I couldn't even begin to name adjacent to a computer desk and dresser. I look above them.

The seventeenth minute:
There are four not-quite-as-white-as-they-used-to-be walls, one shrouded by familiar amateur drawings, love poems, and coloring pages I made for him. The photos of me I don't remember being taken make me smile, then again at the posters of kittens on the same wall. On the dresser against that wall sits, what I find out, is a nearly-empty can of Bod cologne– my favorite smell. But beside the dresser is a pile of questionably clean clothes bundled on the green and white linoleum floor. As I move back to the futon, my foot nudges a small trashcan overfilled with leaky Mountain Dew cans and the remains of midnight snacks. On the opposite end of the futon I see my boyfriend's almost-dead smartphone surviving on its uncertain lifeline of a charger. Guess that's why he never calls me back. I almost fall on my face.

The eighteenth minute:
A thick, gray Halo toboggan crushed beneath the bed hooks my foot and I barely catch myself. My eyes drop and search the floor for more disguised mines. The next one is a pair of wire-rimmed glasses that I know my boyfriend absolutely refuses to wear anywhere in public. Safe place for them. Then, I see a sexy pair of green Amp Energy boxers hiding next to the TV. He must really like Mountain Dew, huh? Lifting my eyes, there is a pair of fingerless, black Disturbed gloves with straying strings I hadn't noticed were on the edge of the TV before. When I turn right, I almost can't breathe for a second. Every Disney movie ever made is aligned neatly, decisively, beside the other wall, minus anything with princesses. Got to keep up that manly bravado, right?

I've spent almost all of my 18 years alive figuring out who I am, and the rest of that time what I thought was understanding my love. But I learned more about him in the past three minutes alone than I did all those years. Questioning how much he really knows me, he returns with a mountain of chicken nuggets oozing honey mustard. He says they were the quickest he could do but, as it turns out, I don't like honey mustard. In my nineteenth minute as an adult, I realize that maybe we all need to spend three minutes learning about someone else.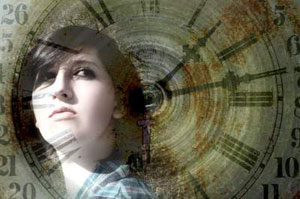 © Ryan K.