Tedious Time
April 17, 2013
Rushing to my computer, I thrust the earphones into the designated slot, shoving the earbuds into my awaiting ears. Cranking it up, I attempt to drown out all thought. I only want the music to penetrate the thick haze in my brain. The dubstep echoes in my ears, "-I woke up as your friend, as your friend!" The music vibrates in my skull, bouncing off its walls into the nothingness that occupies it.
I stare at the math homework, trying to work up the determination to finish it. The review seems to be hitting me with dull thuds, driving me deeper into my mind. I pull out science, I am met with the same feeling.
Returning to the math I let a stream of words enter my head. "You must finish it! The test is tomorrow! You must finish it! The test is tomorrow!" They beat & scrape at the restricting barriers that prevent them from registering in my head. Shaking to clear it, the nothingness stays. Buzzing in my head, through a thick, goopy, condensing fog. Nothing registers except the music.
I make it louder, wanting to shout the tune out to the world, yearning to sing along with it without drawing attention to myself. I don't.
Then the people begin to swirl in my mind, mainly classmates. Laughing with or at me, it doesn't matter, I can only hear their scorn as they see me, a shell, struggling to do so easy a task.
My determination begins to dwindle. "I don't have to get an A, it's just one test I won't get an A or B on." I murmur to myself. As soon as the words are out of my mouth, I immediately shove them back in. "One thing only leads to another." I grimly state.
I force my hand to pick up the pencil, then I drop it. The thoughts of books & writing had entered my head. My hand reaches for one of my favorite books, mentally I slap it away. I would already be pulling an all-nighter to get the normal work load done. Reading wouldn't help whatsoever.
Turning to the banged up silver computer that is issuing the music, my fingers of their own accord pull up the writing pages. My thoughts fill the page. I give personality to new characters, reintroduce the old.
"What are you doing?" Furiously speaking to myself, I log off, cranking the music up even louder. I return to my abandoned math review that had felt my abandonment most severely. For the numbers hit me even harder than before, I struggle vainly against the invisible blows, longing to return to my computer.
I push on, forcing myself to perform first one problem, & then the next.
Then numbers come spinning & dancing off the page, forcing my mind to come up with the sums. By the time I'm just about finished one more thought hits me. Striking me harder than all the blows from earlier.
I still have to do my notecard!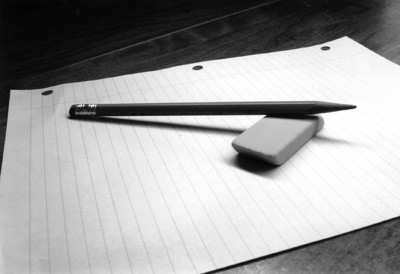 © Michael H., Mildford, CT