We, Me, Him
April 17, 2013
We, me, he. Rhyming laughs.

We, me, him.

We are the fifteen in a row, horizontal lines; the grounded monstrosities, the heart flutterers. We are the tall, the tight-lipped. We are the steak eaters, the cool, slicked sidewalks, brothers on our backs. Last Monday was my birthday. Fifteen times seventeen slaps around my body with fifteen times seventeen blue-black-red bruises, but I never felt more like we than then.

Me, I slapped his neck against the red bricks and when I was done, they said the wet blood on my hands made a souvenir. It made a dark red cast in the evening, but no matter how many times I tried to wash it off, the red still stained the edges of my fingernails. I sleep on the couch tonight, right next to the windowsill. The moonlight makes my fingernails glow.

Him. He slouched like a puppet and his weight was too overwhelming. He sunk in my arms, after resistance. He's an average boy. He's brown all over with a red baseball cap, red droppings around his neck, flat. I couldn't look back, but I have it printed in my mind that now, we share blood.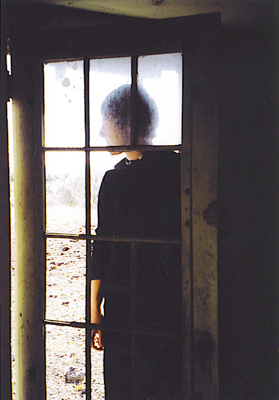 © Lindsay S., Billings, MT