Faces
April 24, 2013
You'd taken showers with your older sister since you both listened to the same bo-po-mo-fo recordings over congee in the mornings.

It's more efficient, said your mother. Two at once gets the job done. This is the same logic she used when she just erased your sister's answers from SAT books and gave them to you to recomplete. But your sister always pressed hard enough that you could see that the answer was C.

The joint showers continued until maybe the summer before ninth grade when in the bathroom she took off her underwear and found sticky red streaks oozing from between her legs like some sort of jiaguwen calligraphy. When you saw this you laughed at her and she walked out of the bathroom in her towel and went to bed without even turning off the light. You told your mother and she discreetly went shopping for sanitary pads the next day.
This is around the time when your father gives you a Rubik's Cube. Unlike the multiplication table poster that he decorated you and your sister's room with on her 5th birthday or the upright chestnut Yamaha that appeared on your 8th, you practice this for three hours every day willingly and without parental supervision. Unlike the multiplication table and the piano, your sister has no interest in it, does not become better than you, and your parents consequently do not spend your parent-teacher conferences asking how you can be more like your sister in the Rubik's cube's respect.
On the cube, you twist and shout like you might if you had the confidence of a whitegirl. But because you are a Ching Chong-Hong Kong hybrid, you become a frickin bodhisattva: quiet, cross-legged under a tree, holding the meaning of life in a weird mudra of red green blue orange yellow and white.

Macro Mulan and Micro Mulan, yells the baseball team as you and your sister walk home. Your sister blows them a kiss and flips them the bird. You keep your head down and focus on creating monochromatic cube faces.

You explain your obsession to the two girls who sat next to you at the Asian lunch table (Emily and Amanda, two of the laziest names a Chinese mama could give to a daughter because she probably heard them from the mama next door, or the fifty other mamas who also have Emily or Amanda porcelain-faced China-doll daughters). They had met you at one of the infinite Asian parties that you were shepherded to—the ones where the parents and sunflower seeds and Qin Dynasty clay teapots occupy the main dining table and the kids occupy the play room, trying not to hear the one-upping bloodbath of My daughter made Dean's List again and My son is going to math camp at Stanford.

There are only two ways to turn a face and only six faces R-L-U-D-F-B, you say. When you turn a face clockwise, you simply name the face and let the change remain silent; when you turn counterclockwise, you call it i—inverted. Emily and Amanda nod while you all wrap your chopsticks back up into Saran wrap and repack your lunchbags.

You practice the algorithms while your sister screws her JV quarterback behind the school (some sort of affirmative-action Harvard-bound amigo whose massive deltoids don't prevent him from shooting up his hand to answer every question about partial derivatives). Soon, the time it takes for you to unscramble the toy is less than the time it takes you to recite the twelve-times table. You grease the cube with Vaseline like Youtube says to do. Your sister buys Shisheido with her essay-writing contest money and dumps Mr. Steroids-and-Adderall, to your mother's unashamed delight. You begin reciting your favorite pattern—R-U-RI-UI—in your sleep and your sister, on the top bunk, mocks you in the morning.

Are you are I you I, she asks, and you shrug because you don't understand anything she says anymore. But when she calls for you from behind the lacquered bathroom door one day in sophomore year, you quickly BI-R-BI down the hallway and jiggle door handle to unlock it.

Don't tell Mom is the first thing that she says and this time you know won't. Because this time the red strokes are less jiaguwen and much more kaishu, calculated and precise and elegant up and down her arms.

Don't tell, she says again. You nervously flick the front layer of the cube back and forth while staring at her new duilian; at least they're luckier in pairs.

I won't, you say.

Okay, she says. She holds out her arms and you're not sure if she's trying to ask for help or prove that she is hurt.

You use an entire roll of toilet paper and at least a cupful of hydrogen peroxide to fix her, and you advise her to wear a Christmas sweater even though it's communist red hot outside (the landlords sweat as much as the proletariat under Mao Ze Sun).

When you two shower together for the first time in one and a half years, the spray feels colder and livelier than it did before. And you can see it, see the white laminate shower floor staining as vital bodily fluids drain into the pipes and the sea and all you can hear is Are You Are I You I. Are you, are I? You, I. There are only two ways to twist a cube face. When it is to the right, it is silent. When it is not right, you call it I—me—identity—are you, are I, I, I, I.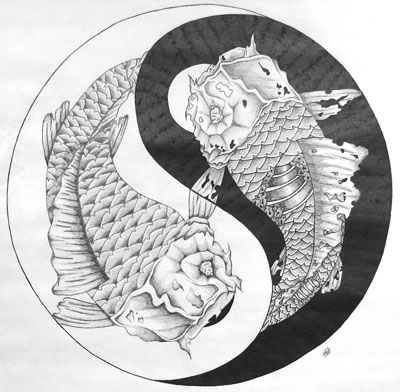 © Matt F., Pierz, MN