My Best Friend
April 8, 2013
It is common knowledge that the ownership of a dog by a young person promotes responsibility and a lasting friendship nine out of ten times. The person in question will have to feed it, brush it, bathe it, walk it, train it, pay for it, and love it.
When I was young I wanted a dog more than anything else, but for the wrong reasons. I wanted a dog, not to love or befriend, but so that I could say I had a dog. The dog I had in mind was perfect for me, a large and pretty two year old female with chocolate brown fur that had streaks of silver and gold in it. Sadly, just as I finally convinced my guardians to let me get a dog for Christmas, she was adopted by some nice older couple. So instead we went to the pound in Mountain Grove, Missouri, where we were currently living.
They had several dogs, most of them old, but there was a sweet little puppy, just old enough to be without a mother. It was a black lab it looked like, with a white patch on its forehead and white paws. My sister loved it, since it was a young puppy.
I, however, was more attracted to an extremely tall, pure black dog of an unknown breed. I was reminded of a taller version of Sirius Black as a dog in the Harry Potter series by J.K. Rowling. It was a handsome dog, and I fell in love. It was only two years old, and was sweet and gentle. It was in a cage with a much smaller bulldog, and they got along well.
Alas, I learned here the drawback of getting a dog while my cousin was still just two. I couldn't get a large dog. All my begging couldn't convince my mother, who is very overprotective.
In the end, I did not get to choose my own Christmas present. Instead my mother picked out a not-yet-fully-grown husky/hound hybrid, a pretty young male. He just reached my knees, and I was 5'7 and ½ at the time. He was a golden brown, with a black blanket and tan nose. He had a white belly and stockings. His fur was medium in length, and he had eyes that were different colors in different places, differing between blue and brown. I named him Pita after the bread.
He was sweet and energetic, but didn't nip like his brother, who was mostly light gold with black smudges. When we got home, mother discovered his fault. He refused, under any circumstances, to be left in a pin. I found this mildly amusing, since he had been at the pound for a while and hadn't barked there the man said.
Day through night, whenever we went somewhere I pinned him up and he would bark until we let him out. Whenever we slept, I pinned him up and he would bark until the morning came and I let him out.
I worked hard to train in him, and taught him several tricks. My grandmother refused to let him in the house, so I was constantly outside teaching him. Eventually he stopped barking as much. He didn't so much as bark then howl, really.
One day I left him out on accident while we went to town for a trip to the doctors. When we got home, he was sitting in front of the door like a good guard dog, and didn't move until I climbed out of the car and told him he was a good boy.
He gave me his dog-grin, wagging his tail and jumping on me looking for a treat. I gave him two.
Since then he stayed out all the time except at nights. Now he would only bark once he woke up in the pin.
He was a great dog, loyal and sweet and smart, but with some odd habits. No matter what, he wouldn't play with his toys. He would only chew things like our sports balls and bats and mittens, and our Nerf guns and bullets. My grandfather was never the cleanest, and had much junk in the back of his shop that my dog, (whom I named Pita after the bread,) would chew and eat.
He ate everything: Coke cans; plastic containers; paper bags; my grandfather's cigarettes; and, once, a license plate.
After a while I began to let him out at night, thinking by now he wouldn't run away and that he would be a better guard dog for my slightly paranoid sister. He was and didn't run away. He only barked when something bothered him, like at the mailman sometimes. Usually he just growled at men and closely watched women who visited.
I grew to love him for the right reasons, and was as proud of him as a mother is of her child.
When he died, a little piece of me died, too.
They said it was an accident, that they didn't see him in time. I'm still not sure if I believe it.
Every forty minutes a drunk driver kills someone… Why drive drunk? If you want a drink, do it where you're supposed to. Not where you could kill someone or something.
Drunk drivers kill people in more ways than you might think. Pita is proof.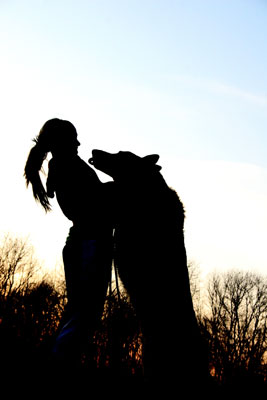 © Brittany U., Terra Alta, WV