Simple Complications
April 15, 2013
Simple Complications

Thoughts swarmed throughout my mind as I continued to page through my It Book. My It Book was more than just a scrapbook; it was like traveling through a time capsule, watching all the memories before my eyes all over again.

All of the pictures centered on a young girl and boy. The girl in each picture always smiling and the boy always in the midst of laughing. In on particular picture, the girl and the boy held hands as they blew out five candles on a birthday cake. I recognized immediately that it was our fifth birthday- Victor and I's fifth birthday. In kindergarten, Victor and I had found out that we shared the same birthday. It was a moment like none other I had ever experienced. I knew then that we would be the closest of friends. I knew then that we would be infinite.

From then on, we celebrated our birthdays together. Our parents grew close, and we always planned out each party together. It's funny how things have dramatically changed since then.

I stood up from my bed that I had been sitting criss-crossed on, and strode over to my largest mirror. I stared questioningly at my reflection. There was nothing special about me. I had long hair that draped down my back. It was the dull brown kind of color that no one knew quite what to call. I looked like I never went out and saw the sun because of how unmistakably pale my skin was. My large blue eyes had absolutely no sparkle or shine to them, and for a thirteen year old girl, I felt shorter than most others.

I don't know what Victor saw in me. I wanted to stay only best friends with him. I didn't want to be more than that. I felt that we were closer that way. I'm not sure how it started, but rather suddenly, he started walking me to my locker each day at school, sitting with me at lunch, and putting his arm around me. Even more than that, he was taking me to the dance that night!

The doorbell rang just then, startling me. Then, I comprehended that I was expecting my best friend Marybeth. We made plans to get ready for the dance together.

I raced downstairs to greet Marybeth. "Heeey," I exaggerated.

"Hey giiirl," she answered, beaming.

She was carrying her dress draped over one arm and what looked to be a makeup case on the other. Suddenly feeling very excited, I graddeb her hand and pulled her up the stairs.

"Let me see your dress!" I cried.

"I'll go into the bathroom to put my dress and shoes on, and you can do the same thing in here," she proposed as she smiled and left the room.

My dress was a strapless, peach colored dress with a sweetheart neckline. It had black lace acting as a belt around the waist to pull the whole dress together. As for my shoes, I had decided on glossy black wedges to give me some height. Once I slipped into my outfit, I found myself at the mirror again. I saw Marybeth's reflection come up behind mine.

"You, Annabelle," she said, "look stunning."

I snuck a peek at her. "No, you do."

She really did. She had on a tight, strapless, ruffled green dress on, and paired with silver kitten heels. Her green dress not only brought out her red locks, it also made her eyes pop, which, unlike mine, sparkled.

"Time for hair and makeup!" She shrieked, as she ushered me over to my desk chair.

After about an hour or so of hair and makeup, we both stood side-by-side yet again at my mirror. I always am jealous of Marybeth's good looks, but even more so at that time. Her red hair was now in perfect ringlets that cascaded down her back. Her eye shadow had a smokey shade to it, making her complexion look perfect and her lips looked full and kissable for the boys with shimmering lip gloss. To make things worse, Marybeth was a model.

We heard a horn honk from outside my window down below.

"Our dates have arrived!" Marybeth squealed.

We quickly snapped a picture of ourselves for our Smack page, grabbed our purses, and flew down the stairs. To be honest though, I wasn't all that excited to greet my date.

Victor and Thomas kissed our cheeks and complimented us on how we looked. Marybeth and I saw the limo we were riding in and we became too stunned to speak.

Unlike the bond between Marybeth and Thomas as a couple, things were awkward between Victor and me the whole night. We barely danced, and when we did, we didn't touch each other as you customarily would during a slow dance. I often spotted Victor stealing peeks over at Marybeth. I grew jealous, but I couldn't blame him. She looked beautiful as she giggled and had fun the whole night. I, on the other hand, found myself caught between the undeniable fact that this so called "magical" evening was more reality than fantasy for me.
The next day at school was even stranger than the night before. Victor didn't walk me to my locker. All I received from him was an occasional hint of a smile. I was surprised to find that Victor didn't bother to sit with me at lunch in the cafeteria that day. I didn't want things between Victor and me to grow distant. I couldn't bear the thought of us holding a grudge against each other. I made my way over to him.

He was sitting only about two tables away from mine, surrounded by his guy friends. They looked to be arguing intently about something, probably about some kind of sports game.

"Um… is this a bad time?" I asked, meeting no one's eyes in particular.

The five boys at the table grew quiet. Victor looked at me with skeptical eyes. Perhaps not wanting to embarrass himself in front of his friends, he sort of swore under his breath and quickly led me to a vacant corner of the cafeteria. He crossed his arms over his chest, obviously waiting for me to speak first.

I couldn't deny being in awe of how much cuter he'd gotten since we were kids. He had deep brown eyes that sucked me in and a golden swimmer's body. Even more, he had shaggy dark hair that I couldn't help but be a complete sucker for- you know; you just get that indescribable feeling in his presence. I reminded myself that I only wanted to stay friends with him, and I dismissed the aweing thoughts.

"You're being peculiar," I said straight out. Once the words left my lips, I knew I shouldn't have made an accusation such as this one so quickly, but I was apprehensive.

He fiddled around in his sweatshirt pockets for a little bit before responding, "Look, Annabelle. I really like you and everything, but, maybe we should cool it for a little bit and see how things go. Right now, things are a little complicated."

He stood there starting at me, blushing, and when I didn't respond; he merely shrugged his broad shoulders and walked away. I watched him sit back down at his table and continue arguing with his friends as if nothing had happened. I didn't know quite what to do. I felt paralyzed. I stood there for what seemed like an eternity until I heard the all familiar bell ring announcing the start of the next period. Students hurriedly shuffled past me to get to class, leaving me standing there alone.

I wasn't quite sure what "complicated" meant, or how I was to take it. All I was certain of is that I just lost a best friend for the time being. In that moment, as I lay on my bed at one o'clock in the morning, I opened my laptop and checked my Smack page. And that was when everything suddenly became complicated. I had about ten notifications on comments concerning Victor. One of the comments was under Marybeth and I's picture from the dance the other night. The first comment, to my great surprise, was from Victor. "You look beautiful babe, @Marybeth14." I froze. I found the next few comments under Victor's newly posted relationship status. "In a relationship with Marybeth14." The various comments below that were generally everyone's surprised emotions. However, the last comment was what tugged at my heart strings in a bad way. It read, "I love you Vic. @Vicswimmer." The comment was posted by Marybeth herself.

I jolted up from my bed so quickly, that I knocked my laptop to the ground. I raced across my room to my desk and fumbled for my cell phone. What reactions I was feeling at that point, I didn't know. Maybe I felt fury, confusion, jealousy, bitterness, or all of them. Marybeth answered on the second ring.

"Hello?" she said from the other end.

"I- I,' I stammered. "How could you do this to me?! Me! Your only true friend!" My eyes uncontrollably welled up with tears and I felt my face burning red.

"Just slow down Ann! Slow down and explain to me just what you're talking about!"

"As if you don't know!" I snapped. "On Smack?"

"You're getting ahead of yourself," Melanie said, clearly trying to sound like the older person. From what you told me, you only wanted to stay friends with him anyway, and from what Victor told me, you guys aren't going steady and never were."

"He just said that because he was upset about how things turned out at the dance between him and I. He doesn't really like you! He's mine!" I was barely breathing and I bet my face was actual purple by then. I was beginning to sound very defendant of myself.

I heard the undeniable sound of an empty, steady beep on the other end. Marybeth had hung up. I paced back and forth across my plush bedroom floor. I absolutely knew I was being a bit too green-eyed and a pain in the butt, but he literally was mine! I had known him first, and I had the stronger bond with him. I absolutely hated that Marybeth was barging in!
I trudged in despair and uncertainty to Marybeth's house that day. I was greeted rudely at her door by her older brother Tim.
"Marybeth isn't here," he said, tapping his foot.
I was skeptical. I tool a glimpse towards her bedroom window. The light was blazing on and I was pretty sure I heard the faint thump thump of music playing. I pushed past her brother.

I flung open the door to her room and she spun around in her desk chair, startled.

"You told him to say that to me," I blamed.

"I told him to say that to everyone," she replied coldly. She went over to the stereo and turned down the blasting music.

I looked nosily over to her computer and saw that she was logged onter her Smack page, chatting with someone- Victor. She noticed me staring at her screen and she shut the laptop.

"Why are you here?" Marybeth asked, as she plopped onto her bed.

"Well if you care, I'm dory for spazzing out so quickly," I responded, sitting down next to her.

Marybeth merely rolled her eyes and flipped her red locks over her shoulder. "Whatever." She pulled out her cell phone and started texting rapidly; no doubt it again was Victor.

"Look at me I sort of demanded. "I don't want to date him but I think that you should have asked me first before you did.

'I don't need your permission or approval Annabelle!" Marybeth snapped bitterly. "He is not yours."

"But I was best friends with him first! You wouldn't even know him if it weren't for me!"

'Listen to yourself Annabelle. You're making no sense at all. Maybe he would still be 'yours' if you just hadn't met me at all, I'm guessing. Correct?

"Yep, correct!" I felt a pang of guilt after I shouted this remark at her, but she wasn't taking the time to look at my side of the story.

Marybeth looked up from her phone with a stare so harsh that I started backing up a step or two. There was a knock on Marybeth's front door. We both looked at each other. Clearly, she wasn't expecting anyone. I heard Tim's voice first, then a voice I thought I recognized. Whoever was at the door started coming up the stairs. Judging by the heavy footsteps, I predicted it being a male.

Indeed, I was right. Standing in Marybeth's doorway was Victor. I could tell he was surprised to find me there too.

"Oh, um, hi," he stuttered.

"I tried texting you Vic," Marybeth said.

From hearing this, I realized that she must have been initially expecting his company but tried to postpone their plans when I showed up. I felt awkward just sitting there.

"Sorry Babe. I must have not heard my phone. Ready to go?"

"Actually 'Babe' reminds me of something. We need to call this off."

Victor looked very confused. What are you talking about?"

"This," Marybeth waved her finger between the two of them. "This is getting in the way of some things very important to me."

"A hint of hurt flashed across Victor's face. "Things like what?" he asked.

"Like some companionships," Marybeth looked pointedly at me. I smiled. All the complications seemed to slip away.

Without saying anything, Victor put on his cool face and merely shrugged his broad shoulders as he does after every breakup. Then he started to make his was out of Marybeth's room.

"Hey," I stopped him, "happy birthday."
"You too," he said.
We both grinned.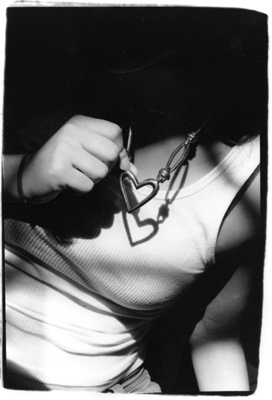 © Julia R., Bethesda, MD