The Coconut Tree
February 27, 2013
It all started with some small changes I could hardly point out, a different smile when I come, shorter sentences when we chat, slower pace when they are coming to visit me. They were all so tiny, almost microscopic; each can never be identified alone. I assumed that was all my imagination, my wilderness tricking me. But then, the smile was almost gone, the sentences were one-word replies and the pace was almost a crawl. Then, it all sank in. I was out of the circle, I was alone again.
-------------------------
Her eyes scanned the place, looking for an empty spot in the crowded playground to lie down and tune out the world. Both of our eyes picked out the one single bench that rested under the coconut tree. Of course, it's not a real coconut tree; it's the name of the game she used to play with her old friends here and I didn't get the chance to play with them. It's only my second year after a long journey travelling, and moving from one school to another. Finally, Mum and Dad told me they found the perfect place and we are never moving out again.


"There!" She said alerted, getting ready for our usual sprint towards the bench before it is taken.


"We are never gonna make it!" I shouted as we ran, exerting our best efforts to reach it before the boy and the girl who were about to sit.


"Never say never" She said optimistically as she jumped.


The couple, a brown haired boy with green eyes and a girl with dark hair, were caught off guard as Clara threw her bag. It penetrated right between them like a bullet and rested on our bench screaming at them "Uh-oh, Too late".


"Nice shot!" I said as my eyes widened. I've known Clara long enough but she still amazed me.


"Oh, that was nothing" She feigned being flattered.


As we rested under the tree, Clara shoved her headphones into her ears, leaving me with my new book. As I flipped through the pages, I watched her from beneath my reading glasses and remembered my first day at this school. I was setting here under that tree trying to get engrossed in my book instead of shifting uncomfortably. After all, I was a new kid, and a new kid is always being watched.


"That's my place" A blonde girl with freckles spread around her nose stood in front of me, tapping her feet.


"Excuse me?" I asked.


"That's my place" she repeated.

And that's how I knew Clara. And that's how the whole building knew us. Jade and Clara, Clara and Jade, we became inseparable forever.


But forever was never long as much as I hoped.


Our first year was perfect, and we weren't alone. There was a third party, a new victim of the Coconut tree who ended up the same way I did, May. And as the year progressed, my life was shaped differently but beautifully with these two involved in every small and big aspect of my present and future. They were the first two I could actually call Best-Friends. They were a treasure; only those who lived a life like mine would appreciate.


I hoped that the last two years of my high school life would be as spontaneous and crazy as the first one was but my prayers were not answered.


Even though I planned to keep them intertwined with my future, it was still hard to keep the balance between what you want and what you have to do. Our destinations were different, our future careers were branched away but I knew that would never affect anything. And they didn't affect anything, they affected everything.


My eyes almost dropped tears as I watched my best-friend slipping away from me, to her very own world that I barely know about. But it wasn't my lack of knowledge that upset me; it was that I once knew her mind better than mine. Now, she is only a stranger. May was absent today and that left me alone with her, my tongue stumbling through the words like a drunk man, and my mind blank from the maze of thoughts that filled it.


Her phone vibrated announcing a new message arrived. By instinct and habit, my head turned to look at her screen when she did a reaction that was totally out of habit. She pulled her phone towards her chest reflexively blocking my vision. As her hands lay protectively around her phone, I felt a knife stamping me right inside my heart, tearing it to pieces and enjoying my pain.


"Keeping secrets?" I asked instantly



She smiled a smile I couldn't identify. Perhaps nervousness or maybe embarrassment..? May be she didn't want to hurt my feelings but still wanted me out of her business? A year ago, I would have gripped the phone from her hand. A year later, I don't think we'll share the coconut tree again.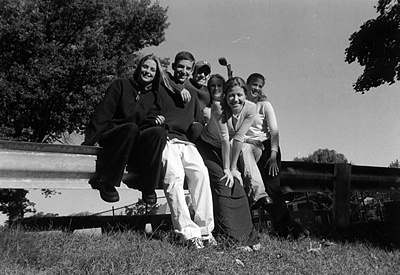 © Caroline C., Marblehead, MA