Constant
March 18, 2013
You may not understand it but she'll disappear off into the maps for a few night's, you'll barely hear a word and her lips will run so dry you'll be tempted to wet them with your own but all you need to do is keep in the quiet and wait for her to turn back to you. She might glance up once in awhile, it's only to look at you. She needs you there as little to none as she may show it. When she shuffles her legs she's feeling them brush against yours when you are past sleep. When she bends her knees to prop her journal, your hips are beneath them. When she tucks her hair she is flustered because the touch is nowhere near as rough as her skin remembers. But it's okay. She'll be okay. Just give her the time she needs, let her have the affairs she needs. She will need a lot of them, however she will never ask for them. She can't afford words at times like those.
Let her shrug into her rain coat at two in the morning, don't make it known that she's woken you up. Watch her. Look at how fragile she is. She isn't as exhausted as you think, just wait until she returns. She might come back in through the door a few times, she'll try to be quiet and use her toes but the cracks in her ankles might give her away, but you know what to expect. No matter how long she spends tossing things to find her journal, let her come back to the edge of the bed to grab it from against your thigh. You might save her the time, but it is much better for her to have the touch. The second she reaches bedside may be all that's necessary for her to come back to you. It is a dangerous place to be, for her, but that's why she loves it in the ways that she does. If she leaves at such an hour, you have nothing to worry about. She is being cared for. The night is sitting on her shoulders and playing with her hair, it may come back tangled but the company was all she needed. Her lips are warm, and everything delicious is resting on her tongue. It isn't that she prefers it over your taste. No. Don't be so foolish as to think it's that. The mere thought of tasting it along with your lips when she returns will be what brings her back through your door in the first place.
She will need to taste other things, she will need the attention of her books and the caress of the pages along her fingers and she will need the attention of her mugs to burn her mouth, to leave her tongue singed to bring attention to the roof of her mouth, the backs of her teeth, to bite into her thick cheeks, just so she can recognize all of the places that still exist. She will need the attention of every thunderstorm that passes through the city streets and the attention of every dog stranded on surrounding fire escapes, every couple swaying drunkenly between her ankles on the sidewalks below. Most important she will need the attention from what you might think of as an excuse of a journal, a torn bundle of pages that may not even be bound. She may leave them all over the place, they may cover your papers for work and leave you running late. They may hide your keys. But she needs it. God does she need it. So let her have it. Don't be angry with her. Don't be impatient. Remember that the love she gives is a love you will alway have, please don't forget that. She is begging even if she hasn't said a word. No matter how many of these things she leaves under her tongue, no matter how direly she may need the attention of all of these others, her tireless affairs, know that they are nothing without you. Know that they are not taking away from any of the attention that you give her just the same. They do not exist without you. You are what is holding them together. Don't feel as if you are lacking her. Don't think that because she wanders she is not yours. She brings you everywhere with her. Watch her carefully. Because with these other lovers is when she is most yours.
When she kisses you before she leaves in the mornings only to hurry around the apartment to find the things she's buried in the night before, let her believe she'd forgotten to do so and kiss her again. She may be back a few more times, but remember to let her carry the time. The touch is always what she needs.
Know that some days you may wake up to an estranged heart locked up into the girl that you love. You might not recognize her, and she doesn't recognize herself, which is why she may not speak. She doesn't want any other girl telling you the words that belong between the two of you. Throughout these days it may be the quietest it will ever be in that apartment, or it may be the most cluttered. It may take everything you have not to organize, not to dim the lights, not to reach for the remote and silence the orchestras streaming through the speakers. But it's all that's keeping her light. Overbearing does not exist for her, because she is every sense of the word. She is everything too much, because to her the thought of doing anything too little is hardly worth being done, and feeling anything too gently wouldn't leave enough of a mark. Keep the lights on, if this is what she chooses. Leave the half tattered sketches displaced all over the counters, let them taint the pages of her books. It will only help her remember. (Look carefully into the lips, they most likely will always resemble yours. She can't help that.) Let the bathwater run over, let it run cold. She will never see this as a frustration, you will never be able to tell she's noticed. You won't hear a thing besides a breath of a gasp when she sinks into it, sometimes she prefers the cold.
That's another thing you'll have to remember. Her temperament. You will never quite be able to follow behind as closely as you would like to. Let her write on the most riveting and beautiful days. Let her shade it from the living room. Let her shut down, you have no other choice. Let her stumble through the hallways because it is too dark to see her toes, her fingers dragging against the wallpapers, leaving behind granite trails. Don't be mad at her for it. Let her sit in the corners of the counters and hold her knees to her on the kitchen floor, let her write. Don't make her speak up, there are times when she won't know how to use her tongue. But even then she will tell you that she loves you with everything that she does, and everything that she is. When she is stirring her hot chocolate and let's the spoon clink against the side, don't be naive enough to believe it's an accident. When she lets the wine drip down the edge of the glass and catches it before it dips with her pinky, listen to her. When she pulls the down off of the bed and leaves nothing but the sheets and a single pillow at the foot, when she leaves the bathwater dripping in a full and chilled tub, when she leaves three quarters of her pancakes on top of the stove and leaves the blame to a full stomach, when she comes through the door soaked in rain water, when her jaw clenches, she's telling you something. She is always telling you something. Do not take any sound for granted, any detail. Do your best to hear her, because if you can't you don't deserve her.
If you ever get a glimpse into her pages, she isn't looking for any feedback. She may not be looking for anything once you've finished reading, she's been studying you all the while. She'll look for slight eyebrow raises, a purse of your lips, dialations, if your breath picks up or where it trips. She'll count the seconds and later when you're long gone to a drowsy night, she'll skim her hand down the page and count to herself again, and believe me she will remember where every inch of you had reacted. Where you had curled up in the curves of the u's, where you had let your breath escape into the o's, the m's caressing your tongue like she would. You will be overwhelmed by her. Consistently. Always. Just know you don't have to understand to feel, and she is proof of that in the softest of flesh.
She may be up at ungodly hours of the night baking things that may never be touched, because leaving them to sit and be devoured by another is enough pleasure for her, and she has exhausted herself enough into the process to spend her love dissolving in her mouth. She would always much rather prefer crawling back into bed to find the taste of you. Don't be alarmed if she leaves the bed, she'll do so quietly and she will return with the most delicious sweets on the roof of her tongue, and that is something she cannot help but to share.
She'll more often wear your t shirts than her own, and she'll hold infatuations over inches of your body that you would have never considered could have been loved. She will kiss your knees and she will brush her thumb over your ankles when she's crawling into bed, her lips will touch to the edge of your palm just where she likes it. Where the skin webs with the bones when you jar your thumb out to the side. The dresses that she wears will always be for you, loose in most places but hugging her in all of the places she'd like, know that these are your arms surrounding her throughout the day. Know that you are in every single mug that she cups, that she is bringing you to her lips with every sip. She will over indulge you in her favorites and speak about the tastes of things more often than you've ever taken notice to them, but what she is really saying is that she enjoys the way they stick to your kiss, and they always taste better with you.
She will always expend her day to you, even if you had been there. She will suffer for people she barely knows and she will feel heartache when a love is lost between the lines of her novel, because it was just as much hers as you are. She will often dwell on the thought of loss, she will feel things so tragic that you may not know how to help her, but as a writer she will always cling onto the things she does not have. Before you it was all she could do to be that girl who fantasizes until she nears madness and writes herself into all of the things that she wished warmed her chilled bones at night, but now that she has the feel of your skin against her own it's the opposite that her heart aches for. The idea of loneliness and a tantalizing nothing fascinates her, and she will never be able to wrap herself around it when it is not with her. Do your best to understand. That is something she never will, either.
Some nights she will take up painting. She will spend copious amounts of money that she will never quite have to take up the one thing that consumes her and grabs her right then, no matter how fleeting. She will buy canvases and paints even if she already has the colors in a miscellaneous bin in the closet, she will always be unsatisfied with the shades, she will try her best to find one that matches the colors so vividly in her mind but she does not take note to the fact that such things do not exist. Some nights she will dance. Some nights she will write. Some nights she will wrap herself in and out of music, whether silently or out loud. Some nights she may simply take up you. She will be all over the place, all at once. It is all you can do to follow.
This is just the way that things will be. This is just the way that she is, this is the way that she loves. You may not be able to handle it, and you will never catch it all, but everything that is in your own little apartment is the result of her loving you. The poster half alive on the back of the bathroom door reminded her of the night you lit her candles for her to soak the apartment, you picked her favorite, because it was the closest that resembled the smell that so often was your skin. She leaves books in your place when you've left and none of them are quite at all by any sort of accident, the titles left on your side of the bed all have folded pages that made her ache, of you. The covers left on your side of the couch can all be translated into something. It will all mean something.
It will all mean everything. And in time, perhaps one night you just may catch up to the amount of love she is offering to you. Just know that even then, by morning she will have found another way to tell you, in all of the ways she knows how to. In the only way she knows how to.
She will get angry with you. She will spur up the wildest of temper's you've ever seen, and she will often get agitated at the way she loves, because as difficult as it may be for you to take in it is all the more tiresome to exist as, all the more gruesome to her body to give. What most people don't know is that she has no choice. She has no other option than to pour herself so heavily into everything that the two of you will become, it isn't that it will drive her to insanity, it's that she is already there. She has already pulled up a chair and had a silent breakfast as if two old friends, she has gotten to know it, just like every other emotion that has ever once surged through her tiny body. You might think it impossible for such drastic thoughts and feelings to be packed into something so small, and truth be it it is. The way that she loves you is nothing short of an impossibility. It is what will drive her towards death. It will, in time, kill her. Even if slowly, part by part, journal by journal, night by night. You will never, I promise, I swear to any God's that exist, feel anything quite like what she will throw against you. She can love you gently, but she can love you just as roughly all the while. She will pay attention to the way you swallow every bit of it, and adjust to make you feel it even more. She will smother you and suffocate you, she will tear you apart and crawl herself into every little inch of you, and she will make it her own. And if you choose to love her back, if you choose to accept that you may never understand, that you may never comprehend, that you may never be able to dissect exactly what it is she is trying to say or trying to show you, don't think of it as even the slightest any form of suffering, to be given this sort of love. Because she is left just as daft and dazed as you, and by some unrealistic force, you may find that you lose yourself to her lips, to her eyes, to her hands, to her
You have lost yourself, and you are not yours
Thank goodness it is you. Thank goodness it is you.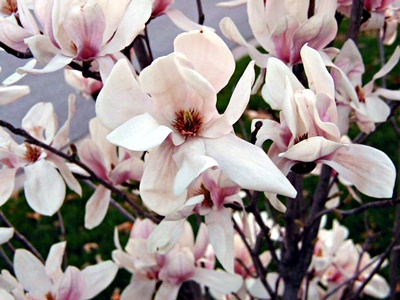 © Brad H., Lemont, IL