River Wading
March 15, 2013
The continuous, sharp pain of the freezing water electrified my nerves. I waded into the deep, hard river as the pain continued to throb in my legs. My heart was pounding my insides, telling me it wasn't happy. Owls called out across the darkness, letting each other know I wasn't of any alarm to them. Possums and other small creatures scurried along in the bush to eat in their small underground homes. In the far off distance water gushed down at the great falls. I was in more pain than I had ever been in my entire life. I wasn't sure if I was going to make it across. I felt really sick and my stomach lurched inside me. My head was buzzing around like a whirl pool. I had to make it all the way across. I wanted to see a herd of horses, which come only at this time of year to drink from a waterhole in the gully. I heard voices calling my name. I would let my family know where I was in the morning, but I really needed this. Now, not tomorrow, I was so close.
Now the pain in my legs and stomach was worse, my head was flying, and my vision was blurred. I couldn't breathe. All the sounds of the surrounding world had disappeared. I crashed down into the deep, deadly river.
Someone was lifting my head out of the water, and carefully helping me to my feet. I opened my eyes and my Dad was peering down at me. I screamed, "Dad! I really need to do this! Please I have to go!" I tore out of his arms and bolted down the bush path. "Ebony?" His voice was hoarse, but as always, demanding.
I stopped and a long outstretched valley lay in front of me. I reached inside my pocket. The camera was fine, despite being under the cold water for so long. I switched it on and positioned myself to take the picture. The scene was beautiful, and the herd was drinking peacefully. I clicked the button and the picture was before my eyes. I stared, mesmerized.
I heard footsteps approaching and a stranger in florescent clothes approached. I wanted to go home, but not with him. I tried to run away but he was too fast. His voice was kind and his hands held me tight but I wasn't sure whether I was safe. He reached inside his pocket and talked to someone on a radio. After about ten minutes of waiting, bright orange lights hovered above as a roaring helicopter floated in the air. I was quickly fastened to a strap and pulled to the safety of the helicopter. The world left behind in a fast blur.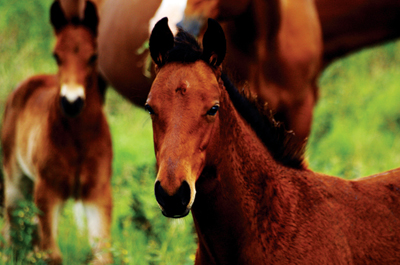 © Sarah L., Holualoa, HI