Mama's Love
February 22, 2013
The wind whirled and turned like a person giving birth
Like mama giving birth.
Like mama dying,
Dad says i have her gray eyes, her windswept chestnut hair.
I have his structure though.
A tall, lean angular body.
During the night,
When i clutch my arms close to my body,
searching for cover against the ruthless wind, I think i hear her calling.
I smell her clean,
lemon and chocolate smell, and breathe it in.
I feel her soft body wrap around mine, shielding me.
Them she becomes real.
I remember her funeral.
Swathed in a dark shroud, her body limp in its dark wood coffin.
Her pale, lifeless figure.
Then she vanishes,
her flaming hair whipping my cheeks as she leaves, her absence draining my eagerness,
and letting the cold rain
drip down on me from the broken roof.
Drip.
Drip.
As the morning sun awakens my father, I stare at the rocking chair.
The tired,
twisted
old rocking chair.
Gramma gave it to Mama before she died.
I was nursed on that chair.
Unfortunately,
Daisy's not.
After Mama died, all of Papas goodwill,
happiness, and love faded.
He exchanged it for a life of capability and stone.
But the transition to stone was slow.
He still cried for months on end. his eyes patchy and red-rimmed every morning.
Then, one day, in the middle of January, he stopped. The crying ended as quickly as it began.
Then the screaming started. At me, at Daisy, at the ghosts he saw. At himself. Every day, he would run out in the pouring rain, and scream about love, about how Daisy was doing in school. About how i was growing up into a young lady. He was hoping Mama could hear, and would consult him, guide him in the right path. But she never did.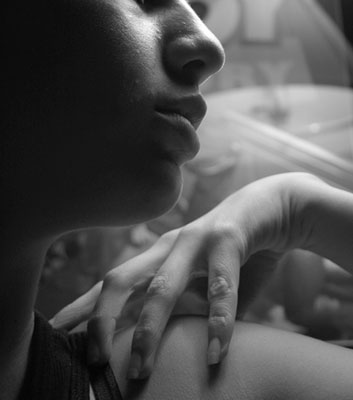 © Rebecca B., Santa Clara, CA