The world of shadows
February 20, 2013
A new day, a new minute, a new second. My hands clenched on my phone as I glanced outside of my car's window, still arguing myself to open the door and get out."One more second" I thought as I watched kids hurrying towards their school, my school, our school. I sighed.


"Are you ready?" My dad asked, bursting my own bubble.


"I guess" I said.



I could see he was losing his patience. We've been standing in front of the school for almost ten minutes now and I didn't move an inch, except for the constant move of my fingers around the handle. My eyes were fixed on it, absorbing each detail as it suddenly became so interesting to me.


"Hunnie, you know I have to go to work" My dad tried again. And this time, I successfully opened the door.


I can't remember anything from the day without that bright light that blurred my vision. Even in my dreams, when my mind would wildly replay my most vivid memories, I would only see a very strong sunlight. Perhaps it was a sunny day. Or perhaps it was an opportunity of a new life in that new school.


My legs moved towards the gate, swaying with the crowd who looked almost identical. They all carried new features, wore the same new uniform and had the same mask on. With a throbbing heart, I made it to the line feeling even more vulnerable and fragile as I was pushed my smaller kids.


"They are never gonna like you." The small voice in my mind spoke up. "They'll all just be as mean to you as they were in the other school. That's how you'll always be. Alone." I managed to swallow the lump that formed in my throat as I stood there with kids who are supposed to be my new classmates, who would share memories and answer homework with me. Suddenly, a new girl turned her head to look at me with a big smile drawn all over her face. She seemed so happy that made me feel we were from different worlds. We were, she belonged here while I belonged to the world of shadows.


"Hi! I'm Claire" She said, offering me her hand with that twinkle in her eyes.


Her smile alone sent warm shivers across my spine, as if I suddenly fell into a bath tube filled with hot water. The warmth was spreading all over my cold almost soulless body. It was possible, I chanted to myself. I could be someone new here; I could be a person again. With a great deal of courage I managed to gather, I shook her hands.


"And I'm Sara" I said.


Tears are running now across my cheeks as the memory kept playing right in front of my eyes, when that light was eventually replaced by darkness, when the smile was replaced by shoot-like glares that penetrated right towards my already dead heart or by the curious sympathetic looks that followed me everywhere. And as I squeezed between the others in the school's corridor, I could almost read their minds. Slut, prostitute, and others I can't even say out loud. For a while, I didn't care if I was dying from HIV, I was already killed million times before, every day, every minute, every second.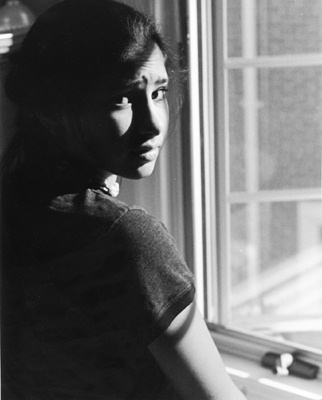 © Jennifer H., Bethesda, MD