The Rusty Swing Set
February 14, 2013
We first met on the rusty old swing-set of the Roger Elementary School playground. I was a puny little first-grader whose best friend had just moved to another school, and now I was left struggling to find my place within the labyrinths of exclusive recess games and rule-infested lunch cliques, in which sharing a juice box was a synonym for best-friends-for-life. You were a feisty foreigner whose daringness and accented tongue exceeded the boundaries of seven year old minds. As the lonely creaks of my swing moving back and forth, back and forth, filled the cool September air, you kicked up a swirl of dirt with your foot and strode toward me, taking a place on the swing next to me like it was the only place you were ever meant to be.

You were there to reassure me when I found a stray eyelash on my finger and was convinced that my eye was falling apart. You picked me up and carried me to the nurse's office after I fell off the balance beam and cut my knee open, my face paling and blood gushing out of the wound. You let me squeeze your hand until your knuckles turned white the whole time the nurse threaded the stitches. The two years of age you had on me made you a god in my eyes. How could anyone so full of confidence, so collected and composed with the wisdom of the years I did not yet have, ever be wrong, ever be able to hurt me? I followed every twitch of your eye, your every expression, your every move. I wanted to be just like you.

Then, middle school came, and all of a sudden, it wasn't cool anymore to hang out with someone two years below your age. You ignored me when I waved at you in the hallways. When your friends, impressed with their eighth-grade superiority, threw bottle caps and insults at the sixth-graders passing through the hallways to class, you joined in. It didn't matter anymore that I had been the only one to take the time to listen to you with your jumbled English as we swung back and forth on the swings. The years we spent down on our hands and knees, digging in the dirt searching for doodle-bugs, didn't mean anything anymore. You stuck up your nose and pretended I didn't exist. Our history was erased in your eyes. Because I had loved you so much, I despised you now.

Once you entered high school, while I was still tangled in the tribulations of 8th grade, you returned to the girl I used to know. You realized that you didn't have to straighten your hair every day to be pretty, that maybe looking and acting like a clone of everyone else wasn't the way to be cool. Your curls returned and so did the glint in your eyes. Once you got your license, you drove me to get ice cream during study breaks. As we giggled, licking the vanilla sliding down our cones, I was reminded of the laughs we used to share out on the playground, chasing each other in circles and spilling our secret crushes and fears.

When you met your first boyfriend, everything changed. You returned to being that girl who cared more about keeping every hair perfectly in line than in chasing me around a soccer field. Our conversations were no longer filled with deep wonderings about the workings of the world but rather the health of the ingredients in hair spray versus lip gloss. I got closer to friends my own age; you got closer to him. As a direct result of our tightening of alternate bonds, ours began to slacken. Your graduation from high school marked the end. I had my group of friends, people who were more than thrilled to spend an evening laying in the grass, looking at the clouds, and you had yours, primped beauties whose sole excitement resulted from your sarcastic tongue. I didn't miss you when I was with my other friends, and yet, as I watched you walk across the stage to receive your diploma, your gait carrying the confidence and feistiness with which you had first walked to me on the playground, I couldn't help but think back to those swings, and the giggles we had on them, our laughter twirling up in the air like a braid of kicked-up dirt.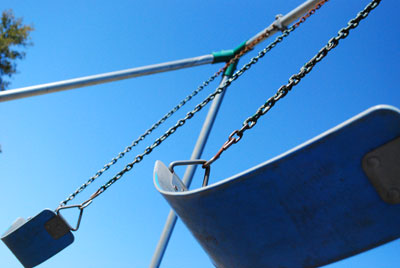 © Natalie R., Windermere, FL