Revenge......or so I Thought
February 4, 2013
My name is Gray. I'm a senior. The girls' basketball manager. A rape victim. This is my story.

February 2, 2013:

I'm running late. I've been job shadowing all day and I agreed to meet Blake when I got finished. It's 5:30, I was supposed to be at school 30 minutes ago, but instead I spent my time cuddled up in Blake's truck. I leave the Wal-Mart parking lot knowing that if I hurry I can make it to school and up the stairs before the pregame has even began. Or so I thought.

"Mom I'm here. I gotta go because I'm late. Yea I'll call you after the game. Love you too. Bye now." I press end and send a message to Charlotte "Here; Stopping by locker room. Be up soon." I look at the clock on my phone. 5:45, plenty of time. Or so I thought.

I open the door. I run into Emmett coming down the stairs. The devilish look on his face sends chills up my spine. I ignore it and push into the locker room. I sit my stuff down and walk back into the hallway. I turn to go up the stairs when Emmett appears out of the office behind me. "Gray, can you come help me with something real quick?" Knowing I've still got time before the game, I turn and walk toward him. He grabs my arm at the elbow and leans down to my ear, "Don't scream, do as you're told, and you won't endure any more pain than you deserve." I straighten my back and sniff back my tears, 'Yes sir." I whisper in fear and anxiety.

He walks me into the film room and shuts the door. "Lay down," he says and points to the couch. He takes off my shoes, unbuttons my pants and slides everything down. He turns and locks the door. When he turns back his pants are unbuttoned and unzipped. I begin to cry silently.

He gets on top of me, covering my mouth with one hand, holding me down with the other…I try to say no. I try to move. Nothing works. I give up. My poor body lies there limply, almost lifeless. I slowly begin to let my mind wonder. To the game, to my friends, my family, Noah (the only one I've ever truly loved, yet he barely knows I exist), Blake (the last person I had seen or been with) and finally Emmett forcing himself on me. Then the questions start to flood me. What if he kills me when it's over? What if he never gets caught? What if I get pregnant? I'll never get out of this. Or so I thought.

As my body grows weaker there's a loud banging on the door. My stomach drops. "Emmett let me in. Get off of her! I know what you're doing!" The sound of Charlotte's yell warms my entire soul. It suddenly goes silent. I grow fearful as Emmett painfully tries to finish. The door swings open and I hear Bartholomew (Bart for short) cursing Emmett as he pulls him off of me. I quickly redress myself and roll to the side in the fetal position. As Bart is escorting Emmett into the hallway, Charlotte comes in with Rae behind her. Rae sits beside me on the couch, my feet in her lap, and tries to sooth me with words of sympathy. Charlotte sits in the floor in front of me, and holds my hand. With tears streaming from my eyes, I force the sobs to cease and I whisper "I want Addison." At the sound of her name the tears begin to stream with more intensity than before.

She rushes down the stairs. I can feel her coming before I ever hear her walking down the hallway. She stops. Emmett must be in the hallway because I hear her screaming. "How could you do that? She's just a child. My child. My little girl. And you hurt her. How could you?" I listen to silence for what seems like hours. "I swore I'd get her back for everything she did to us. I thought the best way would be to do to her what she accused of us." I hear a slap. When I look up she's standing in the doorway, tears streaming down her cheeks, a smile of sympathy and encouragement on her face. I sit up. I reach for her. She rushes to the couch, sits where I'd once laid, and wraps her arms around me. She rocks me in her arms cooing me into comfort.

We're on the couch, my head in Addison's lap, my legs in Rae's. Charlotte still sitting in the floor, holding my hand. "Gray," Addison sighs, "what hospital do you want to go to sweetie?" I roll over and look at her, just now realizing I'll have to be examined. "Vanderbilt." I say with instinct. "Okay honey. Is there anything else I can do for you?" I think for a moment. "Noah?" The look Addison and Rae exchange tells me that I've asked for too much. I roll back on to my side and close my eyes. A moment later I hear whispers. Rae gets up and leaves the room.

Bart appears in the doorway with Noah in tow. The scene has changed very little. Rae and Charlotte are both in the floor now. I've come out of my fetal position. I'm cradled in Addison's arms, my head against her shoulder. "Well we've cancelled the game, informed the administration, and called her parents. They said Vanderbilt is fine. They'll meet us there, so we better get going." Although Bart is the one speaking, my focus is on Noah. He lingers behind Bart, a mix of fear and anger gracing his features. "Noah," I whisper. My crying has finally stopped. I pull away from Addison and motion for him to sit next to me. In that instant, all of his emotions blend to one: hurt.

He joins us on the couch and opens his arms. I crawl into his lap and curl up against his chest. He wraps his arms around me, but his body stiffens. I pull closer. "Noah, it's still me, I'm still the same ole Gray." With that he softens and molds himself to fit me. He sighs deeply. "Noah, what's wrong?" I tilt my face to meet his eyes. "I'm so sorry Gray. I just thought I'd always be there to protect you, from everything. Then tonight, you got hurt in the worst way, and I wasn't here to stop it. Or at least to get a piece of him once he was stopped." I laugh, even though the tears have started flowing again. "Noah, none of that matters to me. You couldn't have known it was going to happen, so it's not like you could have stopped it. I love you Noah, that's all that matters and nothing can change that." I can feel his smile without even looking at him. "I love you too darlin'," he whispers.

Addison smiles and touches my leg. "Gray, sweetie, we really need to be going." I know she's right, but I don't want to leave this moment. I turn to face her, reaching for her hand. "Promise you won't leave me?" I ask in fear. They both promise, with a reassuring smile. We stand and I wrap my arms around Noah. He lets his arm slide down my back and wrap around my side.

We walk out to Rae's car. I let go of Noah and turn to Addison. "Please stay with me." She smiles. "I'm not going anywhere, Ladybug." Together we slide into the backseat. She makes a pillow of her jacket. I lay my head in her lap, return to my fetal position, and slowly drift to sleep as she plays with my hair and softly sings to me. Outside the car, Charlotte and Noah argue about who should go with me. Her: because she's my bestie. Him: because he's my love. Rock paper scissors. She wins, he rides shotgun.

We're sitting in the Vanderbilt waiting room. Addison on my right, Noah on my left. They're holding my hands. Charlotte and Bart walk in together. No one questions it.

I don't remember much after this.

I remember going home a little over 24 hours later. I remember Addison holding me while I slept the first few nights after it happened. I remember Noah sleeping on my couch and being there to soothe the nightmares when I woke up screaming. Senior recognition night of my senior year. The worst night of my life. Or so I thought.

November 5, 2016:

Now, here I sit three years later telling you this story with this angel on my lap. Her name is Addisyn Reigh. She is two years old today. This creamy white skin tone is all she got from Emmett. Her long curls and big chocolate eyes, her innocent smile, her sweet laugh, everything else is all mine. She's been raised with Noah as her father. Emmett is in for life with no parole, so there's no reason for her to ever know the truth.

My angel, my daughter, my miracle. Who knew the best thing that could have ever happened to me would have come from the worst night of my life?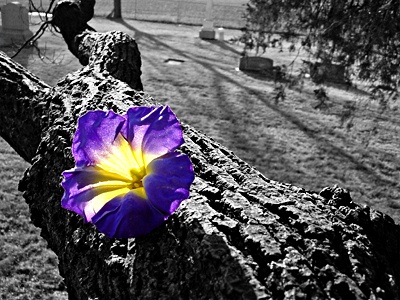 © Greg K., New Lenox, IL