Chocolate Dinosaurs
January 2, 2013
'This is going to be long drive. Why did I even bring this kid? I have no idea what to say to him!'

All these thoughts and more went through Kearny's mind as he drove down the rode. To the right of him in the passenger seat was Barry Cudlow. Since Middle School, Barry has always just sort of been there. Whenever Kearny was mingling with his group of friends, Barry was there. He always managed to squeeze in, while at the same time contributing nothing to the conversation. This never seemed to faze Kearny, but until today, he realized how good he had it dealing with the silent bystander.

He was supposed to go the New York City Comic Book Convention today with his closest friend Greg Callaway, but to Kearny's dismay, Greg had recently come down with pneumonia. Stricken with grief, he walked down Main Street to his favorite café. It was always a place where Kearny could contemplate his thoughts, and then some how feel more settled. A block away from this haven of his, Kearny noticed Barry walking his pug down the street. It was then that something clicked in Kearny's mind. The majority of his and Greg's various comic book conversations happened in the company of Barry. Despite the fact that he attributed nothing to these chats, Barry must have absorbed enough knowledge of the subject to appreciate it. This triggered Kearny to invite him, and Barry happily accepting.

The minute that the two hit the road, Barry took out a small bag of half melted, chocolate dinosaurs. By the third dinosaur he ate, his entire hand was covered in chocolate. Nothing had made Kearny cringe like this in a long time. Every five seconds he looked over at Barry to make sure that none of the chocolate was dripping onto his leather car seats. It only took six minutes until the first drop of chocolate fell onto the seat.

Finally, Kearny decided to become vocal about it.
"Hey Barry, would you mind if-" He was then cut off when Barry quickly turned on the radio (thankfully with his one clean hand.) The music was at a level that could block out any noise, which was unbearable for anyone behind the wheel. Kearney proceeded to turn down the radio, followed by a sigh of relief. Even though his patience was being tested, Kearney was extremely happy that the radio was on. Barry may have been his traveling companion, but he was still a bit of an enigma. His interests, pet peeves, and over all life was unknown to Kearney, so there was no way that a conversation could be started between them. This lead to the next 20 minutes filled with nothing but radio. Kearney's eyes never left the road once.

Once they had reached the city, Kearney was grinning ear to ear. He turned off the radio so that he could finally make himself vocal.
"Can you believe it Barry?" he asked. "We're finally here!" There was a slight pause where he could only hear Barry's chewing. "Barry?" Kearney finally took his eyes off the road to glance over at Barry. What he found sent his mouth agape. Barry's shirt and pants were matted with chocolate, as were his leather seats. Kearny was on the verge of tears. "What the hell man!? Do you see what you've done!? I can't believe you! How come you didn't say anything!? Why did I ever bring you on this trip!?" During this rant, Barry's lip was beginning to quiver, and his eyes gave off a sense of distress. "Don't you even start with that puppy dog look, because you're not going to any sympathy. Now I hope you know I've been looking forward to this day for a long time Barry, and I'm damn sure not turning back now just so you can get clean. I also can't have you in there with me looking like that, so you have to be as far away from me as possible. You got that!?" Barry slowly nodded. "Good. Look, I've got some napkins in the glove compartment. You can clean yourself up a little bit before you get inside, but I doubt that will make much of a difference. Right after I park, I'm heading in. I'll leave the keys here with you until you've finished with the napkins. Remember to lock up, okay?" Again, Barry nodded. "Alright then… well, at least this day isn't entirely bad. There's a space over there right next to the building."

After Kearney parked the car, he didn't hesitate once to get out of it. Once he was in the convention, the memory of the car seat almost entirely left his mind… almost. Kearney was in an a state absolute bliss for the next three hours, buying comics, getting autographs, and just meeting likeable people. This was all made sweeter by having Barry nowhere in sight.

By the time that Kearney had seen everything that he came for; he started to rethink what he had said to Barry. Maybe I was too hard on the kid. I was watching the road the whole time, so he could have dropped the bag by accident. 'I'll see if the guy is alright. It's been so long, he might already be back at the car. I better go check.' He exited the building, and proceeded to walk down the street. He contemplated his thoughts heavily to make sure he wouldn't say the wrong thing to Barry. When Kearny got to his space, he saw that his car was missing. His mind began to think of all the possible things that could have happened to it, until he finally noticed an empty bag of chocolate dinosaurs stuck to the parking meter. Kearny broke down on the side walk and began to sob unceasingly.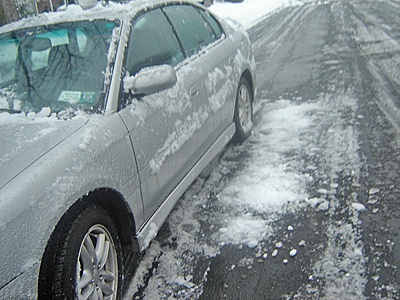 © Allie S, New City, NY