Scarlet Roses and Twisted Truths
December 1, 2012
Dearest Maria,

I have made up my indecisive mind. I thought you should be the one to receive the last letter I send from this address. You were the only one who wanted me to stay after all. I do believe you would disagree with this decision and therefore try to convince me to stay, and, knowing myself, you would achieve this mission to do so. For this very reason I wanted to give you my news in the form of a letter and I do hope you understand and respect my choice. I will miss you and do hope you visit someday.
With Love,
Madeline

Beloved Madeline,

You should feel ashamed of yourself! You never let me say goodbye to my best friend. The one who taught me to let my past go, embrace my true self, and most importantly, trust. My dearest Madeline, you taught me to trust again after I forgot. Well, possibly forgot isn't the best way to describe it, maybe more of, was robbed of my ability to trust in myself and others. Would you say this is more accurate? I do hope so. But I still cannot believe you ignored my pleading to stay here. Do you believe that I didn't care? I love you as my most precious friend and indeed do care. I guess starting over was important to you as you were to me though. So for this reason, and you being such a tremendous help over the years, I will respect your decision. And I do understand the pain it would be to write to me when, after all, we have been forbidden to see one another for much time to come. I therefore give you my permission to not reply to my upcoming letters. My only request would be for you to merely read my sorrowful notes. Can you at least do that much for me, the one in which you have left in your childhood life? But, please, do not get me wrong, I honestly respect your decision and wish you luck with starting over. I will write again soon.
Best Wishes,
Maria

Dear Madeline,

You do not reply. I know I gave my permission, but I was actually hinting to you that I really wanted you to write. Never mind, forget it, my friend. I mustn't ask more of your fatigued soul. My apologies. But, Madeline, you truly do not understand this pain in which you have caused me. My classmates, they don't realize. They believe there is reason to show pity upon me. My shoulders may bare a slightly greater burden, though they look upon me with wide eyes, silently saying they are sorry. This I wish they would stop. I am perfectly fine, for you are able to start this new life in which you have dreamt so many times. In fact, I was thinking about that the night you moved. Wouldn't it have been fantastic to have started over together? I suppose that defeats the purpose of it all though. Sorry, I won't bring it up again. I simply wish the looks from my peers would stop though. My best friend moved, I can cope, I can find new friends; though none would, I assure you, replace your absence. So, please, mentally wish me luck. I keep you in my prayers.
Yours Truly,
Maria

Dearest Madeline,

Still no response? I am only kidding! The reason in which I choose to write you today is to discuss (if you can do so with only one voice) the other children. Their eyes have turned from widened like a puppy to narrow as a bridge. The whispering has begun recently. Deep down, I knew it would, I only hoped it wouldn't be until later. Madeline, darling, they know; they know my secrets. Yes, you have read correctly, the people have uncovered the ancient treasures that have lead to the snickering, smirks, laughing. Remember the old days when we had no worries? Those are far from here now. You did so much for me back then in the tough times. Do you recall the first time you laid eyes on my shivering heart? Madeline, you took me under your arm and got me to spill the secrets I held deep within. In doing so, I learned to let go and focus on the present, not the past. I hope you have decided to keep these ugly thoughts to yourself, I cannot imagine if they knew everything… At the moment, the kids only speak of brother. Though they seem to have forgotten to tell the part in which it was an accident. Even when I try to clear that up, they are never convinced. You believed. You believed in everything I ever did, Madeline. I do want to thank you for doing so. I truly miss you.
Sincerely,
Maria

Darling Madeline,

I cry as this very letter is being written. I can no longer stifle my depressing sobs. Remember Jon? He was quite close to your heart as well as mine. I spoke to him for the first time in weeks today. He has been sucked into this cyclone of twisted secrets. The moment his beautiful eyes laid a glance upon my tear stained cheeks, he turned away in disgust. That was the exact moment in which I broke down completely. I have lost my reason to continue with you no longer consistently by my side. I just want to scream, scream out that I never intentionally pushed my brother, Jack, off the side of the cliff. It was a mere game, and he went to more drastic measures to assure his position as king. You know that as well as I. Me? Kill Jack? Never. Never, right? I am beginning to question my own memory. Was it really an accident? Madeline, help me! Please tell me I never intended for such a thing to happen. I am starting to turn upon myself as everyone else has. Did I Madeline? Did I mean to? Do you still believe in me, as I no longer do? I am frightened as ever it wasn't coincidental I was at that place at that time. Tell me the truth!
Sigh…,
Maria

Loving Madeline,

The days are far too lengthy for my current mental health. The comments, my dear, have not begun to descend. In fact, they have done the exact opposite. Somehow, the secrets of my supposedly forgotten sister have started to creep out unto the shadowed horizon. This time, the children are correct, not one lie mixed within the whole story. How do they know of such happenings? And you, Madeline, know as well as I the truth. Therefore, I request your permission in which not to state it once again. I simply wish to know where their knowledge of these things comes from. Whoever it is, I should like them to realize the pain they have bore upon me; the sharp point of a pencil into my thigh. Dear me, Madeline, I cannot help myself. Though it sounds outrageous and I know you would not be proud of my doings, it is the only pain I can put upon my shattered soul. I scream for control upon my chaotic life. Alas, I suppose the lone chaotic factor of it all is the crying into my pillow at night and the pencil piercing my flaking skin. Oh, Madeline! If only you were right by my side you could help me make it through! You should also be proud to know I have not resulted my uncontrollable life to food, as you seem to have done most recently. I need your help. Could you do me the least of favors and keep me in your prayers?
My Love is Dying,
Maria

Treasured Madeline,

No matter the heart break in which it gives me, I have spoken to your torn mother. I believe she and I have been the most shaken upon your sudden move. She misses you but is alas glad you are able to finally have a life with your father. So many countless hours of constant sobbing, I have had. My pillow now smells of dead flowers and broken dreams. If you were here, you could stop the rumors; you could find the source of the dusty secrets, the root of where they're coming from. I believe I know, though it pains me to admit it to myself, or you. Is it bad to keep the truth from myself? Unhealthy to lie to my own heart? I try to smile through everything, but the sorrow is building up inside and I feel as though I am going to explode at any moment. Forgetting is absolutely out of the picture right now, considering the painful words sent at me like a knife. Have you been praying? I need you, Madeline.
Sincerely,
Maria

Beloved Madeline,

Your absence is a merciful cry for help echoing off an abandoned home. I suppose everything happens for a reason, though I do not see the reason behind this. I try to get my mind off of things by thinking of how amazing your new life must be…without me. The children at school, they've moved onto my father. Madeline, you above all people know how personal some of these stories are. I finally got over the effects of the traumatic episodes involving my father, these people have unleashed it all again. Perhaps you'll be happy to know he's fully recovered, but nonetheless, I am hurting from everyone. As the painful words get harsher, the deeper the cuts become in my thigh. What is becoming of my life? Will anything ever clear up? Do you remember when I first came to you for help? You taught me to overcome my trust issues by taking baby steps. Lately my mind has been overwhelmed with old memories, especially of us. I suppose this comes along with the mental illness of depression.
Yours Truly,
Maria

Dearest Madeline,

My assumptions have been confirmed. I was afraid to say so before, but the truth needs to leave my lips at least once to have any hope of returning to a healthy state. For it was Jon as I presumed to have been spreading these outrageous, yet true, rumors. It distanced himself from me. Today I have decided in which to speak to you of this current state I am in that is known as depression. I know you had firsthand experience with this, yet alas, everyone's is different and my goal is to prove to you I am nowhere near your state before you left this town. My ways have not yet resulted to food related activities, so to speak, as I am sure yours did. Although I am ashamed to say I scrape away at my skin daily, or rather with every harsh word pointed in my direction. And because of these thoughtless acts, I bare upon my legs scars that will forever remind me of these tough times in which I truly struggled to fit in, though never achieved this goal. Along with this major setback in life, I give myself no time to do my schoolwork. For I am far too busy weeping soberly into my crusty pillow. My heart drops to my knees in despair every time I see a familiar faces that does not wish to remember me. What, might I ask you this dear Madeline, has become of the world?
With Sorrow,
Maria

Dear Madeline,

I am losing hope that you are really and honestly reading these. I was sure you would reply after my last one. Oh, Madeline, I am so sorry. I should have been of more help when you were hurting. I knew what was going on, but I knew not what you felt. For this, I blame myself. Alas, everything, I blame myself. The words, the words they speak of are true, without my presence, the phrases they whisper would be a lie. Therefore I cannot be the one to blame Jon, for he merely speaks the truth. Madeline, have you forgotten the last time such events took place? It was you back then. Will I end up moving away too? Will my life begin to turn into the monstrous cyclone yours once was? Oh, dear, I hope not. As the whole world spins around me, I feel like I am the eye of the tornado, the only one standing still. Did you feel like this? And my peers, what they once spoke that I simply ignored and said weren't true; I have now begun to believe them myself. I would tell you what they say, but hearing, or writing, the words myself makes me believe them all the greater. Please, dearest, help my soul before it perishes.
With Love,
Maria

Cherished Madeline,

I have now completely lost it. Nothing in life is turning out the way I hoped. I always dreamed of becoming an artist, having a wonderful husband, a happy family. Now none of this is ever going to happen at the rate my life is going. Do you recall that in one of my previous letters the mentioning of the deep secret I've been keeping from myself? It's grown. I know something's there, though I can't bring myself to know it. It makes no sense, no need to remind me of that. But I can't bring it up from within, and nor have I tried. Is this bad? Am I more mental than I have realized? Or is it just your absence in this city that's ruining me? Please, Madeline, don't take this the wrong way. I do, truly and honestly respect your opinion…I suppose. I'm not so sure about anything anymore.
Sincerely,
Maria

Beloved Madeline,

I have officially lost my mind. That, I will not deny. I haven't eaten in a long time. Yes, Madeline, that's right; I have finally reached your level. I'm sorry. I'm really sorry! I tried. You know I tried! I gave everything I had to struggle to stay above the water line. I don't know what to do. No one understands. You had me; I have nobody. Simple as that. Madeline, I haven't seen the world correctly since you left. The tears never leave my sorrowful, sapphire eyes. Is this how you felt? I suppose. The scale gave me such a fright yesterday. When you add up my mental and physical health along with a huge shock, your outcome is an unconscious girl on the cold floor. No matter how dumb it may seem to an average bystander, you would know exactly what I am talking about. I've also passed out in the middle of science when I took a brief glance at my current grade. Crazy, right? No. This is now my life, Madeline! Please give me some advice on how to get over it! Your best friend is suffering here. I also believe you would like to be advised of my thighs. They are crimson zebras. That old Halloween joke now has a new, painful meaning: What's black, white, and red all over? Maria's thighs.
Maria

Madeline,

I suppose my true emotions aren't coming out through these past letters in which I have sent you. Are you unaware of all the pain you have caused me? When you moved, did it momentarily slip your mind that you are literally killing your best friend? My soul is slowly withering away! Do you not care of the struggles you have brought upon me? Madeline, I tried to respect your decision, I truly did, but everything that has occurred in the past month, nothing is getting any bit better. Are you happy? Leaving our town then never responding to your best friends pleas for help from the sorrow you caused? All I have to say is thanks. Thanks for the tearful nights, slitting thighs, agonizing experiences. You must feel proud, dear friend. I'm holding on, but my hands are becoming sweaty. Slowly. Slipping. Away.
Maria

Madeline,

This secret is building up inside of my chest and bursting to be uncovered. I have been ignoring it. You are causing this personal fight. You were my best friend, always there for me. I looked up to you since the moment I met you. Now, you bring shame to my once joyous life and I just wanted to tell you so. I'm not sure what I'll do. My only goal at the moment is to dig out that secret I'm keeping from myself. Did you have anything of the sort happen to you? Forget it; I no longer want to know.
Maria

Madeline,

I write this as I leave my last letter for you. No one but you will ever know my story. I don't plan to tell it once again; nonetheless will I have the chance. I've given it much thought and made up my mind. Everything I have ever wanted to do has been done; all except be with you. As these words leave the tip of my pen, the scarlet rose is laid beside my final letter and my shallow weeping echoes off your granite tombstone. I have come to join you, Madeline.
See you soon.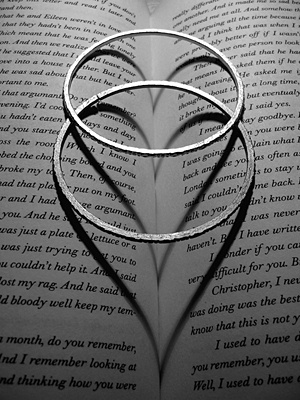 © Julia K., Old Tappan, NJ