Stranded
November 23, 2012
Towers of concrete and glass soar above my head, reaching for the sky. On the street far below these buildings, people scurry along their self-made paths, not meeting each other's eyes. As one might expect, I am one of these people, but unlike them, I do not know my destination. Well, no- I know where I want to get to. I can only hope it's the same place I'll end up.

I couldn't have picked a worse time to get lost, or a worse location. The details of my arrival here are unimportant, secondary to my frantic plans of escaping my current plight. Surrounded by people, there is no point in screaming for help. The problem isn't that I have no assistance, no chance of getting out of this situation. The problem is that help is all around me, but I have no way of asking for it. Who can I trust in this unfamiliar city? Which strangers would take mercy on me, and which would take advantage?

Wandering down the scuffed sidewalks and avoiding the intimidating stare of people I do not know, my panicked mind begins to retain its sensibility as I consider my slim options for escape. I have no money, no cell phone in my pockets. All I've brought with me for what I had hoped would be a brief excursion into the city are the clothes on my back and the music in my head. Now the music has faded, and I try desperately to call it back, to replace my unsaid worries with a song. If I can get a song stuck in my head, even for the shortest length of time, the lyrics will calm my heartbeat and bring a rhythm to my feet.

Hanging on in quiet desperation is the English way

The time is gone, the song is over

Thought I'd something more to say

Pink Floyd. Sure, let's go with that. As predicted, Time's familiar lyrics calm down my speeding heart, although I find the song's tempo to be a bit too slow to walk to. I begin to take in my surroundings with a sharper clarity. Does anything look familiar? Have I been this way before?

I move, ignored by everyone else, through the throng of people, pretending that I'm not freaked out and that I know where I'm going. If my face or body language matches up in any way to my inner turmoil, I will be unconsciously projecting "helpless" vibes that will make me stand out in the crowd. I must act like I belong here until I can get help.

It occurs to me that there are maps of the area down in the city's subway systems. I may not have my subway card with me, but the distance shouldn't be too hard to walk, especially if I can figure out where I am quickly enough. The walk will undoubtedly be hell for my feet, though. With newfound determination, I hurry down the first subway stairs that I see and locate a map shortly. It beings a flood of relief to finally see where I am. I take a mental snapshot of the map, work out the path I'll have to take to get back to the hotel, and exit the subway station.

After about an hour of walking, the comfort sight of the hotel rises before me. I rush gratefully through the doors and enter the elevator, my feet screaming in pain. I make not a sound as the elevator drops me off at the second floor and I walk down the hall to our hotel room, knocking on the door. It isn't until my mother answers the door that I finally start to cry.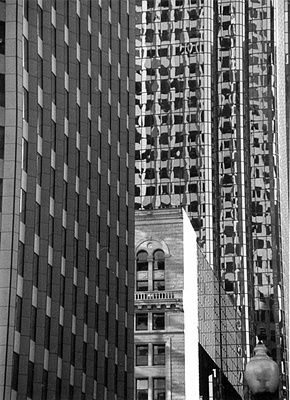 © Natalie D.,Marblehead, MA