A Candle Burns Brightest In the Dark
November 19, 2012
The rusty faucet screeched as a weathered and withered woman turned the corroding Handles.
The lukewarm water felt cool against her skin.
It had been a long day.
Glancing at the linoleum countertop, cracked and crusty,
She admired the new plates she was washing.
There would be no room for their paper plates,
Tonight was special.
Finished with the dishes, the woman turned to the table,
Wincing at its sparseness.
Two plates, one candle, all new.
The oven timer sounded, a foreign sound to the woman,
Too used to the microwaves metallic ping.
A delicious scent filled
The yellowing room.
A roast chicken, his favorite.
The pick-up rumbled into the driveway, a half-broken headlight signaling its approach.
Its door opened, then slammed.
Their houses' door opened, and then quietly shut.
The stench of pesticide, gasoline, and cigarette smoke told her just who it was.
Her "hunny."
He trudged in, his work boots still on, passed by her, muttering "Hey babe" in that same,
Old, gruff, yet tired way of saying things.
The couple sat down, eating their feast in silence.
A bottle of wine - months spent saving for - stood unopened between the pair.
She knew better, but asked of the man, "How was your day?"
He replied gravely, "Fine"
Silence drowned their meal once more.
The candle lit his features: a scruffy, scarred, and scary face.
She saw something else there - strength, sincerity, and a secret softness
He tried not to let anyone know, not even her.
Chairs moved, plates clacked
The dishes could wait until tomorrow.
Both beaten by the day, the two lay on the molding couch, the only furniture to grace their living room, watching the mindless flashes on the screen scroll by.
Like any other night, his tight arm around her weakened shoulder
When he had had enough of the dishonest politicians, raving on their television, he turned his head to her and said, "I'm turning in," and nothing more.
Struggling up the stairs, the man opened the door, and left it open, waiting for her to come to bed.
Picking herself up from the couche's sunken frame, she moved to turn out the light.
Her left hand, naked, flipped the switch, and the lights went out.
A tiny light, a flame, burned in a distant part of their home.
Shuffling to the kitchen, the woman spied the candle, still burning, still casting its meager light on the rest of the room,
Fending off the encircling darkness.
Bending over the table to blow the candle out, the woman's hand brushed against something.
A box, small enough to fit in her palm.
Black, with a bow of purple.
The woman's silent tear fell on the flame, but it did not go out.
He hadn't forgotten.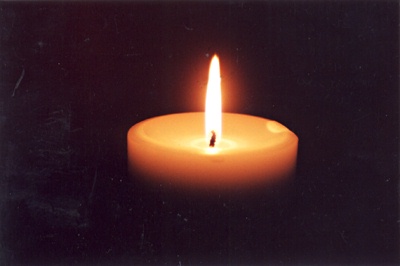 © Ashley D., Philadelphia, PA