My Misanthropy
November 5, 2012
I've come to realize that loneliness is not most poignant in actual solitude, but rather when one is completely unacknowledged in a crowd of their peers. And this state of being, it's not quite nonexistence so much as it is standing in the shadow of a giant Social Monster that always has its back turned. But who really wants to see the face of something so hideous anyway, something that's only pretty in the guise of false friendships and fake compliments?

Take me, for instance. Every day it's the same routine, starting with my wordless standing in the lunch line as half the kids cut in front of me for food that wouldn't excite a homeless man starving on the street. After I get my share, it's straight to the leftover table—or so I call it—where only a few sporadic students sit at any one time. I am its most faithful occupant, always claiming the cluster of about five or six chairs at the edge, none of which are ever filled with another living body in such close proximity. Occasionally, someone drags one away to make a seat elsewhere, but otherwise the seats remain untouched, as if the air surrounding them was yellow and putrid with some vile disease. Or, more realistically, it could just be me.

But I don't much mind. During that half hour, I can, unlike my peers, contemplate the secrets of the universe as I poke ugly patterns into my Styrofoam tray. I can, unlike them, reach epiphanies about nothing in particular as I read cheesy jokes on the back of my milk carton. "Why didn't the skeleton cross the road? He didn't have any guts!" I can do all of this while, sitting nearest me, a guy named Nathaniel dips his spoon in his milk for reasons forever ambiguous. We exist on that same outer fringe, possibly close enough to touch one another if we both reached out, yet I feel us to be so mentally distant that I doubt he would hear me if I ever called to him.

The others, those inside the sphere of normalcy instead of suspended outside it, surely they wouldn't hear. I think to myself, Oh, what etiquette as a girl shovels down broccoli that looks like slimy green muck scraped from the floor of a swamp. I think Oh, what pleasantry as their tongues waggle with the spice of fresh rumors and gossip. I think Oh, what harmony as bursts of laughter sound here then there like the battle cries of warring apes.

I think Oh, what a world.

Unsolicited, a teacher whom I barely know walks casually by and asks, "You don't like people?"

In the midst of tilting the spout of my milk carton at my lips—He didn't have any guts!—I shake my head at him.

"I don't blame you."

I blame the Monster. It chews you up and spits you out, unsatisfied by the agony of your wounds. Run away or become a monster yourself.

As for the latter, I refuse.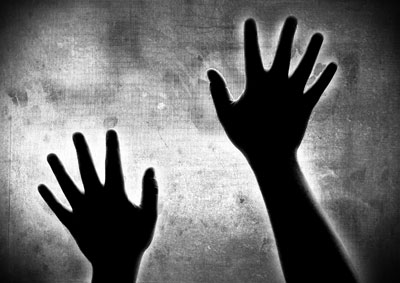 © Andrew F., Lake In The Hills, IL