A Blank Page
November 2, 2012
A blank page curls down the abyss.
Parchment would be a better word for it; it is completely unbroken, one unending line of page connected to page.
Its beginning extends into the farthest reaches of space and heaven; its end into the deepest depths of the underworld and hell.
The pen is constantly poised above the parchment. The newest idea, the richest fantasy, the burning passion; all might impact at any moment. The pen must always be prepared.
There is a quill and inkpot for the days when images flow from Shakespeare and England, a chisel and hammer for the lifetimes that explore the ancients, and a keyboard and mouse for the futuristic societies of what is yet to come. Whatever the topic, the pen will adapt.
Most days, the words come from the lightness above, bright and airy, full of hope and joy, passion and song. The pen sings as it writes, and the words glisten on the page as if sparkling with fairy dust.
But some moments, the pen must draw an inspiration from the abyss, a light from the darkness. The villain must be born, pain must be inflicted, life must be choked away. Such is the way of the pen and the paper.
Those days, the paper is gray and ashen, a pale face afraid of the dark. The pen trembles in midair, scarcely daring to touch tip to parchment, wary of the outcome. The words themselves, once written in the physical instead of in the mind, drip a blood red and smear the line between sheltered fantasy and uncovered reality. A monster is born, but a different monster is exposed.
Sometimes the monster within is the hardest to uncover; only a monster of fiction can chase the demon of the mind and body away.
Such is the life of the pen and paper: poems to inspire, articles to warn, myths to teach, novels to entertain. Sometimes even horror to let horror be exposed.
A blank page curls down the abyss.
What can a writer do with it?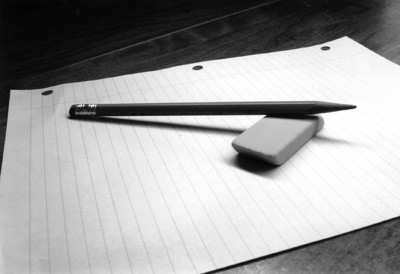 © Michael H., Mildford, CT